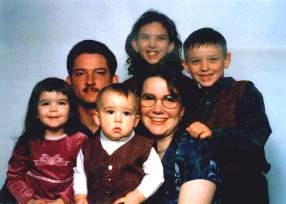 The Stewart Family
By Suzanne Mazer Stewart
MSZFROGGIE@aol.com
My culinary skills typically run to the "you shouldn't leave the table hungry" side. Occasionally, I can get to the "yum, that was delicious" or as the youngest Stewart likes to lisp, "Wishus, Mama." However, every now and then things can and do go wrong. Brian, always ever-lovin' and supportive, usually greets each of these kitchen mishaps with a long, slow shake of his head and the sad refrain, "Well, honey, MARTHA Stewart you are not." Maybe it's because of all her legal trouble, or maybe it's because it's been abnormally busy in my kitchen over the recent holiday period, I truly don't know, but I really could use some of the other Miz Stewart's perfection right now.
Take the church play brownies as a good example. Now, everybody in our neck of the woods tends to agree that my brownies are among the best. Their chocolaty goodness is so highly thought of that Miss Mary, the kitchen lady from church, called the Saturday after Thanksgiving to ask if I could make a pan or so for the church play rehearsal the next day. (Seems the cast needed a little incentive to spend the whole afternoon at the church going over the same lines they'd been going over since October.) I quickly agreed, tied on my apron and set to work. I put a double batch of my best, chocolaty-est goodness into the oven that hadn't been used since Thanksgiving Day. Now, all you ladies know that to roast the Thanksgiving turkey takes the pan the size of a small car. And to fit that pan into the oven means taking out one of the shelves. Well, that shelf had been replaced. I saw to that. However, what I didn't see is that it had been put back in crookeder than Sam the Dog's hind leg. Needless to say, I had brownies six inches thick and raw in the center on one end of the pan, and 1/4 inch thick and black as pitch on the other. Not my finest moment in the annals of kitchen disasters, to be sure. Not my worst, though, either.
Then, there was the kids' overnight-guaranteed-to-please-even-the-most-finicky-young'en oatmeal. This was one of those recipes mamas just can't resist. It was supposed to produce healthy, low-in-sugar, good-for-them oatmeal, hot and ready to eat when their little feet hit the floor in the morning. You cooked the stuff in the crock pot, you see. Overnight, while you slept. And in the morning, you had yummy apple-cinnamon-raisin oats the Quaker Man would be proud of. Yeah, right. We awoke to the smell of scorched raisins and blackened apples. The oats were a petrified mess that took me three days to completely get out of the bottom of the crock. Seems either the recipe was wrong, or I copied it out of the ladies' magazine wrong. The stuff was supposed to cook on LOW, not ultra-hot, surface-of-the-sun HIGH. Who would've thought one little turn of the knob too many could result in such disaster?
And last but not least, there was the ever so forgettable, no one will ever forget it, meatloaf. My Brian, like any good ol' red-neck boy, is a veritable expert when it comes to meatloaf and mashed potatoes. It's not only one of his favorites, but it's also guaranteed to make him start asking "Is dinner ready yet?" when he walks through the door at four in the afternoon. Most of the time, when serving meatloaf, there are no leftovers. The last one, however, ended up going to the dogs. And that was before it ever got to the table. There are only so many things that go into my meatloaf. Somewhere, somehow, in a way only the kitchen gods know, one of those things went terribly, horribly, inedibly wrong. It looked fine, to be sure, all meatloafy and moist. It smelled, however, like something from the pit of Brian's gym bag from work after a month or more in the bottom of his locker. I think, in fact, I've smelled more pleasant odors coming from his work-out gear.
I have not, despite the recent run-ins with cinnamon in the chili, cornbread harder than bricks or the loaf of bread that resembled a mutant from some evil genius's laboratory, resorted to frozen dinners or take-out. Besides, nobody delivers to Frogpond, anyway, so I'm still out there, every night, in my kitchen, giving it my best. Oh, and the play cast enjoyed their Oreos almost as much as the kids did their Pop-Tarts. So, maybe Martha can stay where she is. I think I can handle it. Besides, I think she's got enough troubles of her own.