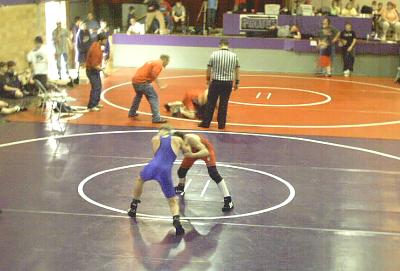 Jeff Goodrich against Bostic - Ripley
By Melissa Hixon
Calhoun Middle School Wrestling had its season opener at the Tri-State Championship Tournament in Pt. Pleasant.
Calhoun had nine wrestlers entering with four lasting till Saturday, day two of the tournament.
Calhoun placed 12th out of 49 teams, including A, B, C and D string teams, with 96 points, scoring above Clay, Wirt, and Ritchie counties.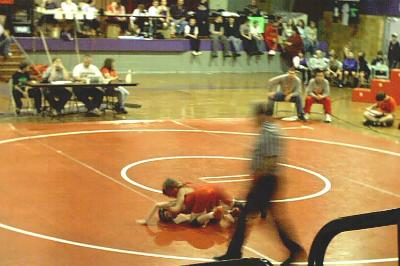 Cody Clark in the finals with a 5-4 score against Metz-Edison
Cody Clark (84) started Saturday morning with a pin against Taylor Morris of McKinley. Clark had his second pin against Matt Johnson from Milton and finished as Champion with a 6-5 score against Adam Metz from Edison.
Jeff Goodrich (116) had wins on day two from Robbie Bostic-Ripley, Thomas Wright-Barboursville, and Christian Walker-Wirt. Goodrich placed 4th with a loss to Jerod Klemans of Clay.
Sean Gungle (78) fought his way back from a Friday loss to Dane Niday-Buffalo to place 3rd. Gungle had wins from Justin McCourt-Clay, Justin Fisher-Spencer, Nick Stewart-Milton, Matt McCormick-Pt. Pleasant, and Luke Parsons-Ripley.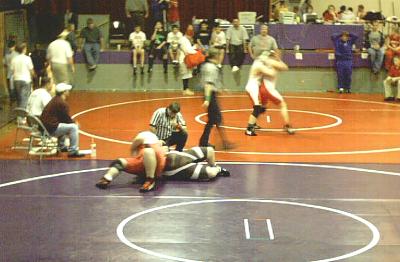 Randy Brannon working for the pin against Haynes - Hamilton
Randy Brannon (HWT) had wins from Chris Young, John Adams, Josh Kale-Edison, and Justin Goines-Dupont. Brannon placed 5th with a loss to John Hipes-Pt. Pleasant Middle.
The wrestlers competing at Pt. Pleasant and their records are: 78 Sean Gungle 6-1; 84 Cody Clark 4-0; 90 Kameron Reip 2-2; 110 Aaron Yoak 1-2; 110B Josh Deweese 2-2; 116 Jeff Goodrich 5-2; 123 Kayla Hixon 1-2; 145 Jacob Haught 0-2; HWT Randy Brannon 5-2.
Calhoun will compete at the Braxton Co. Middle School Invitational on Sat. Jan 10.
Schedule:
Dec. 18 Clay (TB rescheduled)
Jan. 2-3 Pt. Pleasant Tri-State Tournament
Jan. 10 Braxton Middle Invitational
Jan. 14 Central WV Area Conference-Braxton
Jan. 17 Roane Middle Invitational
Jan. 23-24 WSAZ Tournament-Huntington
Photos courtesy of Melissa Hixon