By Gaylen Duskey

Calhoun County wrestling Coach Mike Stump was worried about Roane County heading into Tuesday afternoon's Calhoun Quadrangular.

He need not have been.

While Stump was worried that "Roane matches up pretty well with us" it really didn't matter as the Red Devils raced to a huge lead and coasted the rest of the way to the easy 51-21 win over the Raiders and a sweep of the quadrangular match. Calhoun had earlier dispatched of Wahama 72-18 and Grafton 52-18.

The Red Devils started off on the right track when Eddie Burrows recorded a pin at 103. That gave Calhoun a 6-0 lead and it was never headed.

After a forfeit win by Bryan Gungle at 103 the Raiders cut the lead in half when Jaron Sampson fell at 119 pounds.

But that was the high water mark for the Raiders.

Justin Ramsey got the Red Devils back on the right track with a decision at 125. Three straight pins followed that by the Red Devils - Justin Ashley at 130, Andrew Cummings at 135 and Justin Price at 140 - for a huge 33-6 lead.

Following that, wins by Eric Metz, Paul Goodrich and Michael Roberts put things well out of reach.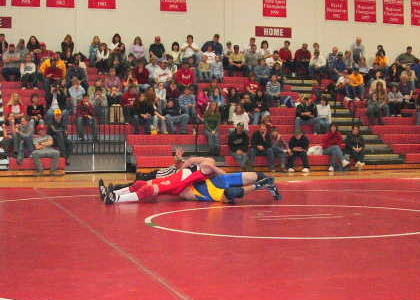 Calhoun's Eric Metz beat Dennis Efaw 19-5 in a 152-pound match,
Tuesday afternoon. Calhoun won the match 52-18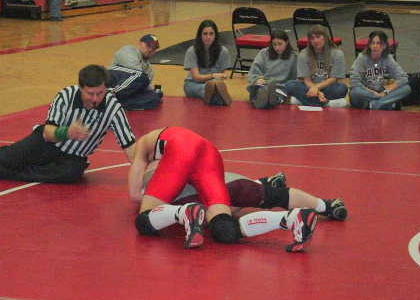 Calhoun's Paul Goodrich beat Roane's Andrew Brannard, 16-4,
to clinch the Red Devils dual victory. Calhoun beat Roane 51-21
Calhoun started the day with a lopsided win over a talented Grafton team. The Red Devils won the first seven matches for an insurmountable lead en route to the victory.
On the day Burrows, Gungle, Ashley, Cummings, Price, Metz and Goodrich went 3-0.
Metz and Ashley are both 18-0 on the season.
Calhoun is idle until the weekend of Jan. 9-10 when it competes in the Nitro Invitational.
Photos by Gaylen Duskey