Barbecuerun@aol.com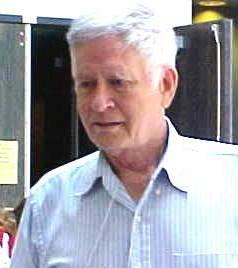 As I hobbled to a bench in the center of the mall and after elbowing a little old gray-haired lady aside to make room to sit down, I had the feeling that people are missing the true meaning of Christmas.
Of course, there are the ever-present bell ringers with their kettles hoping to collect money from the guilty to pass along to the poor in a sort of trickle-down method, and their spirited "Merry Christmas" is intended to open up the heart and pocketbook. But doesn't the Good Book declare that the poor will always be with us? So, why break with tradition, as they would only go out and spend the money. Let the poor do what Scrooge and I have done for poverty: vote Republican.
Trickle down economics work. You just have to be the one to get the first trickle before the huddled masses drink it all up. But there is just something else missing in Christmas.
Take Santa Claus. Long lines of kids wait to talk with the old fake. Many times you can smell booze on the old guy's breath, but this shouldn't be held against him as anyone who has to deal with bratty kids and their "I want this and that" needs support of some sort, whether chemical or otherwise.
I spotted a little waif in the back of a line waiting to present his list, just the sort of kid who in desperation might cling to the hope of getting something for nothing. I slipped up beside him and whispered to him that Santa was a fake and that his mommie and daddy were pulling a hoax on him instilling a belief that would turn out to be a lie. He whimpered that he didn't have a mom or a dad, that he lived in a foster home, but I did notice that he tore up his list as he went sobbing down the mall.
In my heart I felt good that the kid had learned a lesson early and hadn't heard the news on the street as a ninth grader, as I had. Of course, that wiped out my cherished beliefs in the Easter Bunny and the Tooth Fairy in what Lyndon Johnson called the domino theory.
It seems that people don't honor Christmas properly. A cynical attitude seems to prevail. Take Christmas decorations. As a kid our family didn't have electric let alone an indoor bathroom, yet we made homemade decorations for a pathetic Christmas tree that my dad cut from the hillside. I guess we didn't know any better.
Now neighbors compete for the consumption of electricity to outshine each other. My jerk of a neighbor lights up his house with stupid lights that blink on and off resembling and airport runway more than a residence. But this year I was determined to show him. I began with a 35-ft. tree that I had hauled in from Preston County. I couldn't fit it inside the house so I had part of the roof removed and brought in a crane to life it into position. I topped it off with the largest star I could find and then ran strobe and arc lights all over the house and topped it all off with one of those Army surplus searchlights that had been used to spot German bombers in WW 2.
I made a hurry-up call to Allegheny Power to install an extra transformer, and when I pressed the button I was told lights all over Yuppie Lake dimmed much as they did in Moundsville of old when a convict was fried. My greatest reward came, however, when a guy from NASA called and reported that the Space Lab had spotted my creative work from space.
But by far the most difficult part of Christmas is shopping with the Little Woman (5 ft., 2 ins.). She is never where she says she will be. Her solution is for me to stand in one spot and she will find me. Try standing still in a Wal-Mart aisle filled with Christmas shoppers! I am a designated target for what I am convinced are militant feminists, who may have been trained by terrorists in Afghanistan, which may say much about their femininity to begin with.
I am certain I appear as prey as they patrol stores for men who have been told to stand in place. They each carry ponderous handbags which when swung just so can do a man harm in a sensitive area that most women have learned isn't the mind or heart. And a shopping cart rammed at the right angle can be breath-taking. That was why I went limping down the mall to begin with.
But as last, she came out and couldn't understand why I was never where I should be. She asked why I was limping, and I told her it was an old war wound. If you view the battle the way I do, it wasn't a lie.
As we left the mall we encountered one of those dratted bell ringers. I tried to avoid eye contract, but when he wished me "Merry Christmas, Sir," I exploded. It's enough to beg my money, but to call me "sir" compounded it all. "The same to you, buddy!" I snapped, and then I extended an index finger upward so that he might observe the Christmas star of his choice.
As we drove home avoiding all the stupid drivers on the road, I pondered why people today just don't seem to have the spirit of Christmas in their hearts.