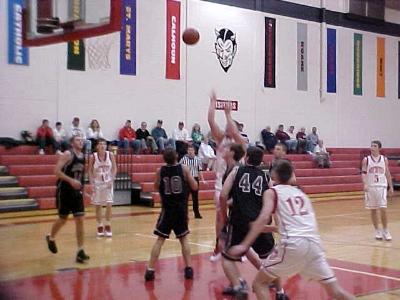 Calhoun's fire went to burning embers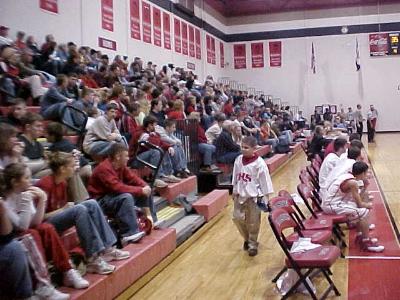 A good crowd for the season opener at Mt. Zion
By Gaylen Duskey
realfang@citlink.net
Calhoun County started out like the proverbial "house on fire" Wednesday night.
The problem is that sometimes a house on fire has a tendency to be self-consuming.
Such was the case this time as Calhoun's 16-5 first quarter lead went away and all that was left in the end was a 53-49 Roane County win amid the burnt embers of a promising start.
Red Devils coach Tim Davis was wont to explain exactly what happened other than to say "nobody stepped up late in the game."
Calhoun had the opportunity to win and was trailing by a single until the last few seconds when big Derek Hardman, heretofore mostly a non-factor, rolled in a couple of free throws to give the Raiders a three-point lead.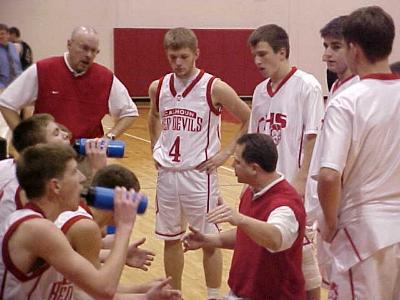 Coach Tim Davis (center) and coach Tim Moore (left)
trying to energize Red Devils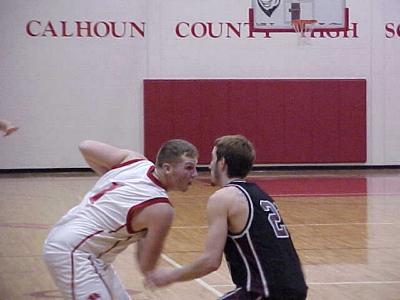 Davis handles ball with Roane Raider
Calhoun still had the opportunity to win the game but a time out call, when no time outs were available, resulted in a technical foul and Roane's Justin Bossert sank one of two free throws to make it a four point game and set the final margin.
"When they (Calhoun's younger starters) didn't think about things and just played ball we did great," Davis said.
When things got tight Roane's experience and Calhoun's inexperience showed.
In the first quarter the Red Devils jumped all over the Raiders behind the play of juniors Tristan Harris and Jake Perkins, both of whom were elevated to the starting lineup for the first time this year. Harris knocked down eight points and Perkins added six.
It was at this point the Red Devils' fire burned brightest.
Roane started whittling at the lead and trailed by only six, 27-21, at the half.
By the mid-point of the third quarter the Raiders had pulled even.
Then as Calhoun's flame began to ebb, the Raiders pulled ahead. And in the end the flame completely died out.
Perkins led Calhoun with 18 points and 11 rebounds while Davis added 14 points and Harris 10. Zach Houchin with four and Mike Batten with three rounded out the scoring for the Red Devils who went with the iron-man, five-man rotation the entire game.
Brett Abbott led Roane with 11 while Bossert added 10 and Hardman nine.
With the win Roane County goes to 2-0 on the season while Calhoun drops to 0-1.
Calhoun won the junior varsity game 44-39.
Calhoun will return to action Saturday night at the high school playing host to Braxton County.
Roane and Calhoun will have another match up, of sorts, tonight when the Lady Raiders invade to play the Lady Devils. The junior varsity game is at 6 p.m. and the varsity game at 7:30.