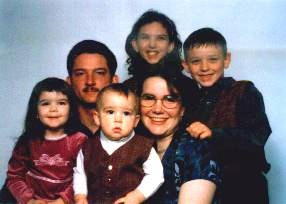 The Stewart Family
By Suzanne Mazer Stewart
MSZFROGGIE@aol.com
I heard something on the radio the other day as I was driving home from another Christmas shopping trip. The announcer said "that if the Devil can't make you bad, he'll make you busy. " That caught me a little off-guard, and then immediately I realized that I had fallen right into that trap. I'd become BUSY.
Now, I've always believed that there is BUSINESS and BUSY, and the two are nowhere near the same thing. "Business" is when you are focused on the important things, doing what really needs to be done, tending to whatever needs tended most, be it weeds in the garden or children and puppies on the living room rug. "Busy" is when you get so caught up in the doing of things, deceptively important, that you forget or neglect the "business" of living. Even knowing this, I hadn't realized it when it happened to me.
I must confess that lately I've been "too busy" - in a total holiday rush, in fact. And very little of what I've been rushing to and from and for really matters. The family isn't going to care if the house isn't spotless come Christmas morning. Grandma, Mama and Daddy will be so bleary-eyed from lack of sleep we won't notice. The children will be so starry-eyed with their presents and stockings they probably won't notice anything until at least the 27th. The guests certainly won't notice, seeing as how the house will be in candlelight when they arrive on Christmas Eve. So, I've determined to keep it sanitary and safe, but that's as far as I'm taking it. And as for the shopping, well, I've determined that enough is enough. We have enough presents to make Santa's sleigh's runners groan from the weight. We have enough food and goodies, or the ingredients for them, to keep Martha Stewart busier than her lawyers might allow. We have enough Christmas cards and wrapping paper to do the job. So, I'm done. A gallon of milk and a loaf of bread, maybe some more laundry detergent, in short the things I usually run out of, will be the only things purchased before Christmas. We need to make a trip to the library for more books and videos, but that is considered "business" and not "busy." This household cannot function without its bed time stories, school time resources and family movies to replace the lousy stuff they put on TV.
Speaking of bed time stories, I've made a commitment to never again get too "busy" to not read one. Some nights recently, I was so concerned with what all I could accomplish AFTER the children were snuggled in bed, I hurried through our routine. After a few nights of that, I had to face those sweet little faces staring up at me, and a gentle lisping voice saying, "Tory, Mama, pweeth." Well, that did it, then and there I realized I couldn't let my children suffer from my being "too busy." So, we have about 20 favorite and about-to-become-favorite Christmas stories in our book bag. We've been reading 2 and 3 a night this week. The kids are happy, I'm happy, and I feel a lot better about myself. Bedtime is not the time for "busy."
I've been neglecting myself, lately, too. Pushing myself too hard, not taking the necessary time for me. My writing has suffered. My cooking has suffered. (The brownie episode makes for a whole 'nother column.) My friends have suffered, too. A group of us "Moms" was gathered in the church kitchen during rehearsal for the children's Christmas play when we suddenly realized that we'd all been so "busy" some of us hadn't spoken more than a few words to each other since before Thanksgiving. It's nice to know you're not alone. It's a comfort to know that others suffer the same malady. So, we decided to help ourselves out a bit by NOT inviting each other over, by NOT taking on any more projects until after New Year's, and by NOT tying up each other's time with unnecessary phone calls and emails. In short, we helped ourselves get out of being "busy." It was as if a fresh breeze had blown through the room. Perhaps it was just the collective sigh echoing off the block walls.
So, now that I'm not so busy, I can once again turn my attention to business. Not just bedtime stories, but time to bake cookies with the kids, time to take walks in the snow, time to have "help" licking the envelopes when mailing the Christmas cards. We've gotten back to the business of living life as we prefer to live it here in Frogpond - a little slower than in most places. We've stepped back from the brink of busyness to return to our slower way of taking care of business. If you find, after reading this, that you, too, have become a victim of the Devil's "busyness" I urge you to do the same. Ask yourself "Is this really going to matter tomorrow? Next week? Next year?" If the answer is "no", don't waste your time. Christmas only comes once a year - it's too precious a thing to ruin with poor "business" practices. Step back, breathe, and stop doing whatever it is that's got you so "busy" you forgot to breathe. Go read a bedtime story, to yourself if you have to. Just get back to the basics, the things that really matter to you and your family.
I'm gonna end this now. There's a little bunny who needs his other ear sewn on before he can hop his way into a little boy's stocking. Now that's business well worth tending. I hope you all have a blessed and wonderful Christmas!