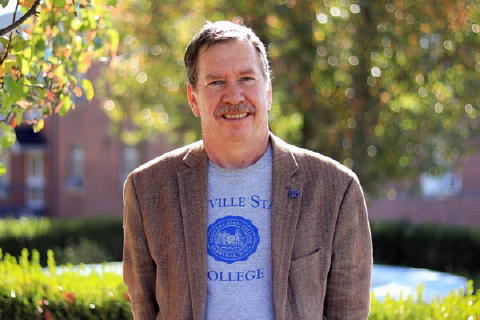 Reprint courtesy of the Gilmer Free Press - Glenville State College (GSC) has long been noted for its friendly campus; a haven full of smiles and fellowship.
In today's GSC landscape, there is no face any friendlier than that of long-time faculty member Larry Baker. Baker, who teaches math and science in the GSC Department of Education, is truly Glenville's "Mr. Positivity."
"I honestly believe that there is a lot of good in this world, and that we are very blessed to be around a lot of great people here at GSC," Baker noted. "When I come to work every day, there is a lot to smile about."
For Baker, it has always been about the students. With over 30 years of work in education, he continues to serve, working to see each individual he works with reach their potential.
Baker is a native of Wood County. He attended Washington Elementary and followed that experience with his time at Blennerhassett Junior High School (BJHS). He then attended Parkersburg South High School for grades 10-12, graduating in 1983.
During his days at both Blennerhassett and South, Baker participated in several sports; he played football, basketball, and baseball at BJHS. Once he got to South, he ran cross country and operated the lighting system in the auditorium for theater productions.
"I loved everything I was involved in, and had a great group of friends," Baker said. "But cross country was a better fit for me once I got to high school."
Academically, Baker performed at a high level, and put a great deal of his focus on college math and college science. He worked on a track that would prepare him for college in those areas. This track eventually led him to GSC.
"My parents instilled that into me at an early age that I would be going to Glenville someday," Baker said. "They were proud GSC supporters and this college made a major difference in their lives."
Edward R. Baker was a 1959 graduate of GSC. He grew up in the Ritchie County community of Beatrice. He served a stint in the military then attended Glenville on the G.I. Bill. His mom Patricia is also a Ritchie County native, from the community of Brohard, a small community on the Ritchie-Calhoun-Wirt County line. His dad taught at Harrisville High School for a period of time, and served a stint as a teacher at Hamilton Junior High, before establishing a long career at the DuPont Plant in Washington, West Virginia. His mother graduated from Camden Clark Memorial Hospital and was the third nurse hired when Calhoun General, now Minnie Hamilton Health System, opened.
Baker remained in Parkersburg for the first two years after his graduation from South. While attending West Virginia University at Parkersburg, he continued to log college credits while working several odd jobs in the county. During this time he worked in a paint shop, as a mechanic at a garage, and also at the Parkersburg Post Office.
Baker was a Glenville State College student in the mid-80's, working toward eventually teaching math and science. He notes that it was a very special time to be a student at GSC, and he was active in many activities on campus. One of his most vivid memories was the historic flood in November of 1985.
"I will always remember how high the water was coming down Main Street," Baker said. "I can vividly remember being with Jerry Burkhammer going out in boats and getting people who were down on Main Street. How community members were lodged on campus and how so many people pulled together to help each other through that event."
Baker was an active member of the GSC community. He served on Student Council, was a Resident Assistant at Pickens Hall, President of Chi Beta Phi, and President of the Judicial Board. Baker would student teach in the spring of 1988. During his time at GSC, he was classmates with several current GSC employees; Burkhammer, Dr. Kevin Cain, Dr. Kevin Evans, and Jesse Skiles. Burkhammer is currently the Project Director for Student Support Services, Cain is an Associate Professor of Education, Evans is a Professor of Chemistry, and Skiles is Director of Athletics.
After Glenville, Baker was actively looking for employment and five job openings were on the board for Kanawha County. He chose to accept the job at East Bank High School (EBHS) in the eastern end of the county teaching science, computer science, and mathematics. At the time of his hire, he was the youngest member of the EBHS faculty. He would remain at East Bank for ten years, and during that time he served as the Area Technologist for Kanawha County Schools. He was also involved in the famous teacher's strike of 1990.
It was in the early 90's that he married his wife Vickie (Fulks), a 1990 GSC graduate and a native of Millstone in Calhoun County. Like Larry, Vickie's degree was in math and general science. She later certified in secondary physics (9-12), with a Master's Degree in Early Education.
"I have a lot of very fond memories of my time at East Bank," Baker noted. "I loved it there…the people I worked with, the students, the community, the culture…it was a great experience. That area went through quite a transformation during that time. I can remember periods of time, where you might lose up to 100 students in the district when a mine would shut down."
It was during his time at East Bank that the Bakers had a son, William Baker. After the 1999 school year, Baker was set to join the faculty at the new Riverside High School, the result of the consolidation of DuPont and East Bank High Schools.
This is when fate intervened.
"Vickie had said a few times that she was wanting to move home. I was happy at East Bank and hadn't really thought about it," Baker said. "I guess you can never underestimate the power of a country girl."
Baker soon got a call from Ron Blankenship in Calhoun County, asking if he would be interested in helping with the technology program for the county school system. Within the week, the young couple was heading back to Calhoun County, with Larry as the county's Director of Technology.
His life took another turn in just two years later, when he interviewed at his alma mater; Glenville State College. Through a very valuable contact, his former professor Dr. Joe Evans, Baker was able to secure a job with GSC President Dr. Thomas Powell. His title was the Associate Vice President for Technology.
Helping bring GSC into the 21st Century from a technology standpoint, Baker gained tenure in 2004 and, since 2007, has been focusing on his faculty load. In addition to teaching Modern Physics; Physics 201, 202, and 209; College Algebra; Nature of Math; Electronics and Magnetism; Education 203; CSCI 267; and Science 105, 205, 305, and 405, Baker also found time to serve as the President for the Board for Minnie Hamilton Health System for ten years. He is truly one of the most versatile of the GSC faculty members with multiple graduate degrees and certifications.
Through it all, the Baker Family as a whole has been highly successful. The modest Baker is quick to note his place in the pecking order.
"Compared to what my wife and son have accomplished, I am just riding their coattails," Baker stated.
Vickie has enjoyed a long and successful career as an educator. She now works at the West Virginia Department of Education, serving as the State Coordinator for the National Assessment for Educational Progress.
Baker's son William has also enjoyed success both academically and professionally. He attended West Virginia Wesleyan, earning his undergraduate degree in economics, accounting, and computer science. He went on to earn his Master's at the College of William and Mary, he is now published and works for the accounting firm Ernst & Young.
Larry's sister, Cindy Baker, is also a Glenville alumnus, graduating in 1990 with a degree in business and computer science. She passed all parts of her CPA on her first try, and went on to a long and successful career at DuPont. She recently retired from the plant.
Baker himself has remained very active across campus, working with organizations much as he did as a student back in the 80's. He has been active for the institution with three Higher Learning Commission accreditation Site Visits, served for 12 years as the Advisor for Glenville State's Student Government Association, 10 years as the Vice Chair of the Faculty Senate, and has also been the advisor for his beloved Chi Beta Phi. He has most recently served as the Director of Institutional Effectiveness. He also served a half-term as the Faculty Representative on the GSC Board of Governors.
Maintaining his role as an active part of GSC is something Baker takes great pride in. He also takes great pride in the fact that he gets to work with the aforementioned group that he went to college with in the 80's; Burkhammer, Cain, Evans, and Skiles. This group, all now in their 50's, are active members of the campus community as a whole.
"It is really nice that we are all back here at GSC working," Baker noted. "Back in the 80's, I don't think any of us thought that someday we would all be back here together. But to be honest, it is the same mindset as when we were students…we are all working to keep strong relationships that are working to move GSC forward. We are very blessed to be back here at the alma mater."
And as GSC's "Mr. Positivity," Baker has never lost sight of his role. It is a role that is solely based on student success, and being here for the young adults that choose Glenville State to further their education.
"My overall mission has always been and shall remain, to push students to attain a four-year degree that will make them very marketable in their life beyond college," Baker said.