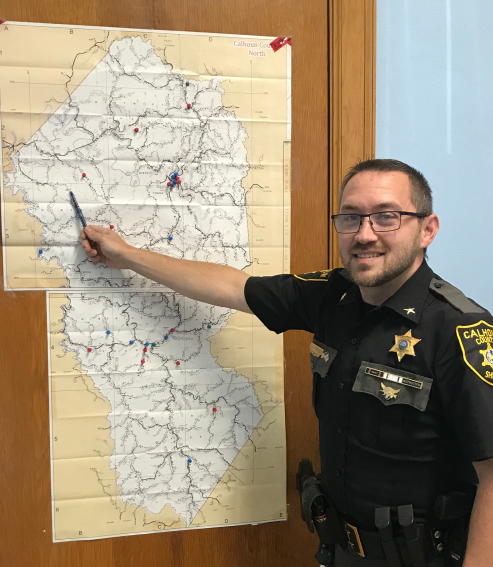 Sheriff Jeff Starcher has unveiled what the Calhoun County Sheriff's Department is calling "Operation Drag Net." "Operation Drag Net" is the latest addition to the department's aggressive drug interdiction efforts.
Sheriff Starcher stated there is an evident trend in Calhoun where distributors and users of controlled substances are utilizing the county's main highways.
Starcher stated that in addition to officer presence on main routes, the department will be deploying a minimum of three officers, to simultaneously "fan out" in order to cover a main highway, and the secondary roads parallel or adjacent to it, covering on both sides of the county.
"While it's impossible to cover all routes at once, this effort is an additional measure we are taking to cover secondary routes, in the event drug distributors travel secondary roads in an effort to avoid our main routes."
Sheriff Starcher said that in addition to drug interdiction, Operation Drag Net will improve Sheriff's Department presence on secondary routes, and deter other types of crime in the rural areas and roads of Calhoun.
Sheriff Starcher is shown demonstrating an area where one deputy may be patrolling in Operation Drag Net, alongside of Route 16, previous drug bust locations are "pinned" to the map as can be seen in the background.
"This administration is committed eradicating Calhoun of the drug problem and continually building upon the services we provide to better serve the people of Calhoun County, he concluded