The September meeting of the Elk River Chapter of the Daughters of the American Revolution was held outdoors. It was held at the Davis Memorial Presbyterian Church's outdoor pavilion in Gassaway. The last regular meeting was held in March.

The Constitution Week (September 17-24) program was presented by Elizabeth Stewart.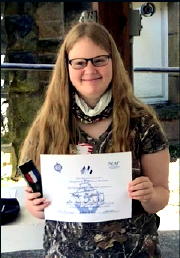 A special award was given to 16 year old Kalynn Harris (right) Ms. Harris was the chapter winner of the national Christopher Columbus Essay Contest. Her essay described the first expedition in August 1492. She had to imagine she was a sailor on the voyage and discuss experiences, places and people she encountered upon return to Spain. She read her excellent 1200 word essay to the group.
Denise Doring VanBuren, President General, wrote a message to all the chapters congratulating them on the over 550,000 masks members made for their communities throughout the Covid-19 virus outbreak. Elk River Chapter members made over 300 masks.
Annually the National DAR Day of Service is held on or around the 11th of October. Chapters and individuals are encouraged to engage in meaningful service projects in their communities. Projects vary from cleaning tombstones, delivering cookies to fire departments and sending "Thank you for your Service" cards to veterans at the VA Medical Center in Clarksburg. Projects may be carried out by a group, with a DAR friend or by oneself. It will be interesting to hear what members chose to do for Day of Service.
It was not yet determined when and where the next meeting would be held. It is possible future meetings may be held via Zoom or Google Group.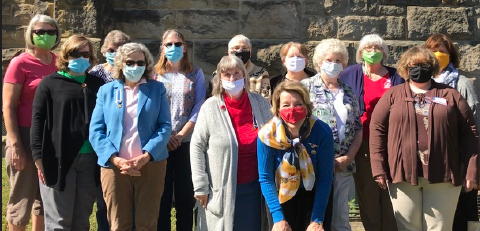 In attendance were (L-R) Beth Ware, Jill Mooney, Mary
Stewart, Lillie Robinson, Kim Frazier, Lib Stewart,
Carolyn Patrick, Julie Hunt, Deb Riley, Wanita
Mollohan, Ruth Mooney, Sarah Harris, and Dabney Phillips