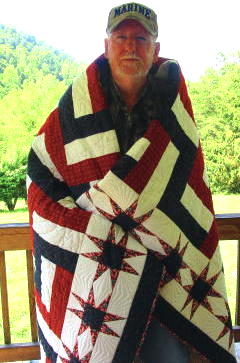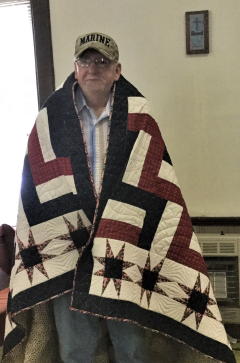 Former US Marine Corps Cpl. Kenneth Ray Bailey of Minnora, Calhoun County, was surprised as a group of friends and family honored him with a Quilt of Valor (QOV) presentation on Sunday. May 12, 2020. Beverly Harold, who made the quilt, felt blessed to be involved in such a worthy undertaking. She acknowledged Kenny and our military for their sacrifices, which was a unified sentiment of all those preset.
Kenny enlisted on March, 1969, spent time at Paris Island and Camp LaJuene, South Carolina, and Camp Pendleton, California. From there, he was deployed to Danang, South Vietnam for a year. Kenny's last few months were spent state-side at Quantico, Virginia, where he was honorably discharged on March 24, 1971.
While in the Marine Corps, as a Corporal, he earned the National Defense Service Medal, Vietnam; Service Medal with 1 star; Rifle Marksman Badge; Vietnam Campaign Medal with device and the Meritorious Mast. Recently, Kenny was privileged to be a part of the Honor Guard for the traveling Memorial Wall when it was displayed locally.
The Quilts of Valor Foundation has been honoring service men and women, like Kenny, for 18 years. It began in 2003, as the result of a dream, literally. A woman, named Catherine Roberts, saw her enlisted son in distress in a dream. She was so troubled and wanted to do something to comfort her son and others, so she started making quilts.
It began as a small volunteer program, but has grown and evolved into a recognized national foundation. The mission statement is "to cover service members and veterans touched by war with a comforting and healing QOV." The quilt is a lifetime award. There is a great need to provide quilts for service members. Over 250,000 quilts, in all 50 states, have been done through the organization so far.
There are size requirements for a QOV, which is made to fit a soldier's bed. It must be made with the best quality fabric and batting, as is fitting to gift to our veterans. A label, affixed to the back, permanently identifies it as a QOV, to whom it was awarded and other information. Kenny's quilt measures 65" wide by 86" long. The pattern is a combination of the Split Rail Fence and Star Flight blocks.
"I wanted to make this quilt to express my gratitude for what you have done, Kenny, as a US Marine Corps veteran, for all Americans and our enduring way of life, our freedom from oppression, the joys of living in unrestricted ways and to provide the means for our personal privileges and pursuit of happiness," said Beverly Harold, from Chloe, who made and bound the quilt. It was custom quilted, on a longarm machine, by Sheila Maxey of Lewisburg, WV. Beverly and Sheila, along with other friends, have been active in making QOV quilts for over ten years.
"My friend, from all of us gathered here today, we thank you for your service, sacrifice and valor. Never a day passes that we don't recognize the freedoms we enjoy because of men and women, past and present who defend this great nation against threats, both foreign and domestic," said Beverly in closing. "You are well deserving of this QOV."
Donations of pieced tops, batting, backing and quilting services are gladly accepted to further the cause. Contact Maribeth Shreve, coordinator for the West Virginia State Chapter of QOV by email at   maribeth.shreve@QOVF.org  for more information, or if you would like to become involved.
More about the role the national Quilts of Valor Foundation plays is available on their website at www.qovf.org Anyone who would like to nominate an active duty service member or veteran for a QOV, the application is available on their website.