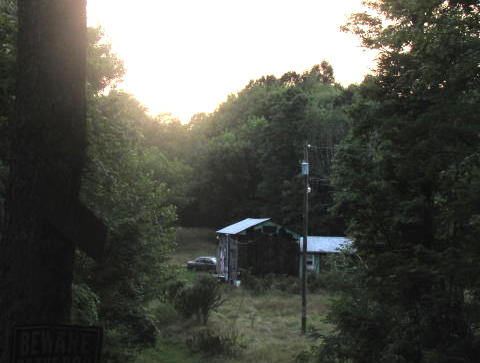 The population of the Village of Hur is declining in recent months, now with the death of Woodrow "Woody" Kerby, Jr., who has passed after a long battle with cancer.
With the trend to not publish an official obituary, we'll have to make do with these words.
The Kerby clan settled in the greater Hur area about 1830, with large holdings of land.
Woody returned to his grandfathers home place about 20 or so years ago, a simple Jenny Lind house built by James Hollis Kerby (1885-1964) and his wife Dianna Belle Kerby (1884-1953).
The house is located on the remote Kerby Ridge near Hur, long used for sustenance farming.
Woody was pretty much a recluse, always amiable to talk about the family history, donating some old artifacts to the "Hur Museum."
He once returned there about 40 years ago to entertain his neighbors with his youthful personality and free spirit.
He father, Woodrow Kerby, Sr. and his mother Mary lived in Marietta, Ohio, had a daughter, Brenda; five sons, James, Benjamin, Woodrow, Donald and Holly; one step-daughter, Rose Holt; two step-sons, Randy and Gary Hardie; and several grandchildren.
With Woody's death, he joins Hur stalwarts Lewis Slider, Carl Shaw and Delmas "Bean" Wade, who have passed in recent months.