SLIDER DIES ON HUR'S HIGHEST 'MOUNTAIN'

By Bob Weaver

The Village of Hur's population continues to decline, with the death of life-long resident Lewis Dean Slider, 73, connected to the land, woods, and people, and still farming and raising cattle.

He and his wife Dottie, who passed in 2008, acquired the Sturm property a number of years ago, building their home on the highest peak with a wide view of the region.

The photo on the Hur Herald masthead was taken in earlier times, his wife Dottie, in more recent years, photographed the long-gone village from her front porch. The pastoral view is magnificent.

The Slider family came to Barnes Run in 1849, building a log cabin near the Slider Cemetery, where he will be laid to rest.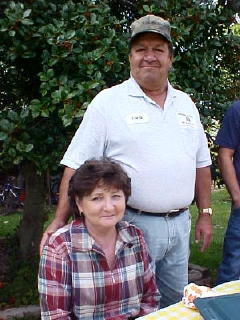 Lewie and Dottie attending a Hur social event
In the early days of publishing the Hur Herald, Lewie and others were featured in a number of fanciful stores about Hur elections, where he ended up being declared the Mayor for Life, after which Dottie was elected Chief of Police.
Lewie enjoyed the fun.
A number of years ago the couple donated Charley Starcher's Blacksmith Shop to Calhoun County Park's Historical Heritage Village.
Stories were featured about the Hur Council for Social Improvement and Upward Mobility.
Lewie graduated from Calhoun County High School, Class of 1965. He was a Vietnam Veteran and a member of Linden Masonic Lodge #83, retiring from EQT.
A funeral service will be held at Stump Funeral Home & Cremation, Inc., Arnoldsburg WV on Tuesday, June 30, 2020 at 1:00 p.m. with Rick Fitzwater officiating. Visitation will be Monday at the funeral home from 6-8 p.m. Interment will be in Slider Cemetery.
See complete obituary; Lewis Dean Slider>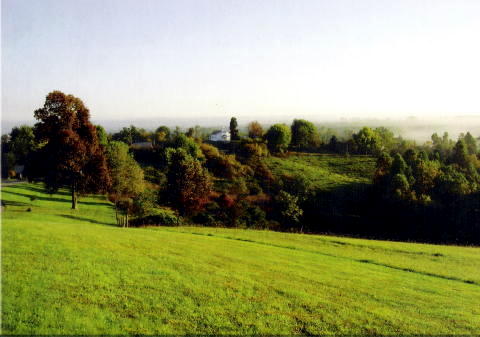 Dottie Hersman Slider's photo taken from hill top residence of
the fading Village of Hur, in distance the Mt. Olive Church
See also   "Slider-One Honest Man"
And   Mayor Slider Wins Again - Complaints Filed Over Raffle