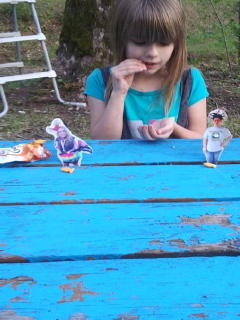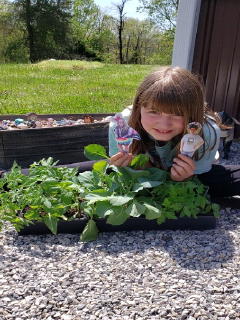 Emma Ackley (L) shares an outdoor snack with her flat
teachers, and Lexie McCune shows her garden plants to hers
Written by Amanda Morris
The 2nd grade teachers at Pleasant Hill Elementary provided a great opportunity for their students last week. In spirit with the children's book, Flat Stanley by Jeff Brown, Mrs. Haught and Mrs. Trippett made flat paper versions of themselves and mailed them to their students!
Children nowadays don't really play with paper dolls anymore, but you can see how much they enjoyed playing with these photograph paper dolls of their teachers.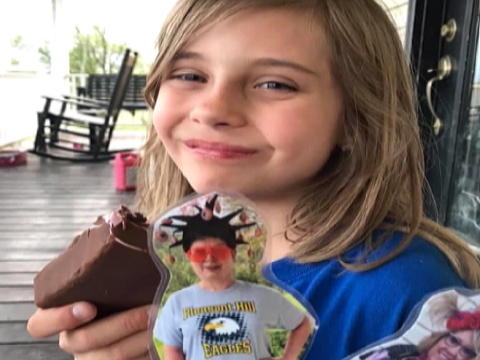 Brooke Tingler eating ice cream with
flat Mrs. Trippett and flat Mrs. Haught
Upon the arrival, the students were encouraged to take their "flat teachers" on adventures in their everyday quarantine life. They were then asked to write about the experience they had with their "flat teachers" and share their day with the class on the PHE 2nd grade Facebook site.
As you can see, the students really enjoyed this simple activity, and it was a great example of encouraging children to use their imagination.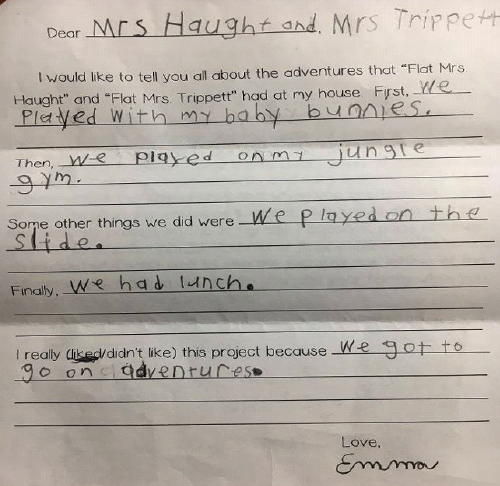 An example of a student sharing her
adventures with her flat teachers