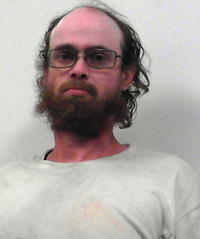 5/11/2020 - A 38-year-old Chloe man Michael David Badgett was arrested Monday by Sheriff Jeff Starcher and Deputy CJ Meyers for the assault and battery of a Roane County health professional who was attempting to administer care.

Badgett is in Central Regional Jail.

According to the criminal complaint, Badgett went to the Roane General Medical Associates Clinic, which was following protocols for COVID-19 care.

A clinic professional said that Badgett was first upset when his wife was not allowed to accompany him into the treatment area, aggressively upset and cursing.

Badgett was advised he could leave the facility if he liked.

Witnesses verified Badgett's statements to the workers, "I can f-----g meet you in the parking lot too," then telling his wife, "Come on, we should have known better to see these dumb sons-of-bitches."

Badgett, according to the complaint, then accosts the health care worker by pulling his protective mask off and coughing and spitting on him.

He then states, "I hope you f-----g get it (COVID-19)."

The complaint was served by Roane Sheriff Todd Cole charging Badgett with assault and battery on a healthcare worker. Hia arrest was made by Calhoun Sheriff' Dept.