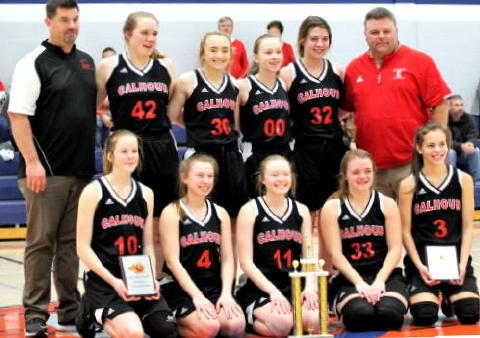 Front (L-R) Josie Montgomery, Megan Harding, Karlie
Whited, Madison Dennis and Savannah Cunningham; Back (L-R)
Coach Kevin Boak, Joselyn Yeager, Madison Westfall,
Ella Hess, Kaylin Parsons and Assistant Coach Paul Parsons
Lady Red Devils 13-6 claimed victory over St Mary's Blue Devils February 8 in Blacksville at Clay-Battelle High school in the WVHIT   see   West Virginia Hometown Invitational Tournament   The Championship game left the Lady Red Devils victorious in a 61-47 win. The are now 14-6 and ranked #10.
Kaylin Parsons, Junior, led the team with 22 points 12 rebounds and 5 blocks. Josie Montgomery, Sophomore, added 19.
Savannah Cunningham, Sophomore, and Josie Montgomery were named to the All Tournament Team. Josie Montgomery was named to the WVHIT All Tournament team as a freshman as well.
The Lady Red Devils will be in action again tonight as they host #3 Pocahontas County Warriors JV at 5:45 and Varsity at 7:00. Senior Athletes will be honored - Megan Harding, Karlie Whited, Madison Dennis, Amber Hatfield and Megan Jones.
Thursday night they will face the #8 ranked St. Mary's at home.
Josie Montgomery and Karlie Whited will represent the team at the Night of Champions Shoot-Out in Glenville.