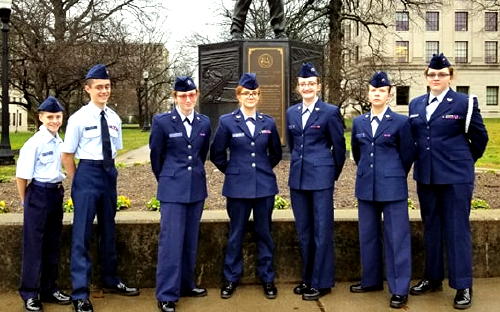 Calhoun County Composite Squadron Cadets - Tobias Good, Levi Good, Raven Story, Kinlea Church, Hannah Beckner, Hailey Norman, and Kameryn Toney
The Cadet members of the Civil Air Patrol (CAP) Calhoun Composite Squadron attended the annual CAP Legislature Day on Thursday, February 6th. Cadets and Senior members of various Squadrons from across the mountain state visited the Capital to speak with their region's elected officials about CAP and the importance of its presence within the state.
Seven cadets of the Calhoun Squadron attended the event, including: T/Sgt Levi Good (Gilmer), SrA Kinlea Church (Calhoun), SrA Kameryn Toney (Calhoun), Amn Hannah Beckner (Gilmer), Amn Hailey Norman (Gilmer), Amn Raven Story (Calhoun) and Cadet Tobias Good (Gilmer). Senior members in attendance were 2 Lt. Emma Howell and 2 Lt. Julie Beckner.
The CAP WV Wing Members had an eventful day speaking with their area Legislators. The Calhoun Squadron worked to visit and recruit five Legislators to become new honorary Legislative CAP members. The Calhoun Squadron also worked to visit offices of law makers that did not have a squadron present from their area.
During the event, the attendees were given a tour of the House of Delegates and Senate Chambers where each chamber read a citation recognizing the WV Wing of CAP. The group was also acknowledged with a standing ovation during the House of Delegate and Senate's regular sessions. After lunch in the Capital cafeteria, Governor Jim Justice recognized the WV Wing by reading a proclamation in the Governor's reception room. Later in the day, the Cadets and Senior members received a tour of the West Virginia State Supreme Court. The tour was given by the Honorable Supreme Court Justice Evan Jenkins.
Justice Jenkins explained the role of the Supreme Court and answered questions from the Cadets and Senior CAP members. The Calhoun Squadron even had the opportunity to meet Medal of Honor recipient, Hershel "Woody" Williams, who received the US military's highest decoration for valor for his heroism above and beyond the call of duty during the Battle of Iwo Jima in World War II. The day was an eventful, education-packed day for the Calhoun County Squadron. The group was proud to visit the area legislators on behalf of the WV Wing and thank them for their ongoing support of WV squadrons across the state.
If you are 12 years of age or older, live in Calhoun, Gilmer, Braxton, Roane or neighboring areas, and are interested in becoming a member of the Calhoun County Composite Squadron where you can learn about leadership, aviation, search and rescue, becoming a pilot and so much more, please visit the Calhoun Squadron. Meetings take place at 6 pm each Tuesday at 413 High Street, Grantsville, WV. The CAP Calhoun Composite Squadron WV-016 is under the command of Lt. Col. Lewis Craddock.
For more information, visit GoCivilAirPatrol.com or visit their Facebook page Calhoun Composite Squadron, Civil Air Patrol