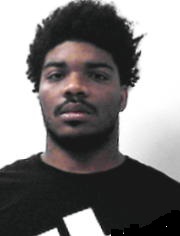 West Virginia State Police and the Calhoun Sheriff's Department responded to the J&B Drug Store in Grantsville Thursday, after receiving a report of a man attempting to illegally obtain a prescription.

Deandre D. Brownridge, 23. of Chicago, IL, was charged with acquiring a controlled substance by fraudulent prescription and taken to Central Regional Jail with bond set at $50,000 cash.

In a criminal complaint by Sgt. C. J. Weekley, the local drug store had received a call from the medical office of Dr. Rajjoub's in Bridgeport WV requesting a prescription be filled for one pint of Phenegran (Coedine)costing $50 for Aaron Roberts, with the pharmacy becoming suspicious and checking with the physician's office.

The doctor's office advised they did not issue the prescription.

The criminal complaint says a person called the J&B Drug Store Thursday advising them a person would stop by to pick up the prescription.

Brownridge came to the store at 4:30 p.m. to pick-up the prescription. Police witnessed two individuals at the counter, noting that the "accused started pacing" and then walking toward the front of the store, yelling.

The complaint says after being notified regarding the fraudulent prescription, Brownridge then attempted to get past Sheriff Jeff Starcher and a deputy.

Two State Policemen, the sheriff and a deputy attempted to restrain Brownridge who who was trying to get out the door.

The complaint then says the man denied commands to stop. "The accused refused, and even while on the ground would not stop resisting." The officers were eventually able to restrain him, one officer's glasses was broken and another had a watch broken.

The criminal complaint says the man continued to resist after being in custody, bending a polymer handcuff in an effort to free himself.