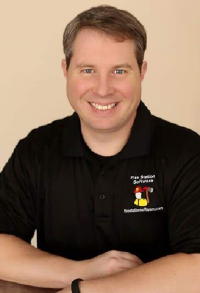 Mark Horwich, 51, of the Spencer Roane Volunteer Fire, died in a crash of a fire truck responding to a fire about 2 p.m. Saturday.

He was enroute to a structure fire near Amma.

West Virginia Governor Jim Justice has issued a proclamation ordering all United States and West Virginia state flags at the Capitol Complex and all state-owned facilities in Roane County be displayed at half-staff, from dawn to dusk on Saturday, January 18, 2020, in commemoration of the distinguished life and service of volunteer firefighter Mark Elliot Horwich.

Funeral arrangements are being completed by the John H. Taylor Funeral Home in Spencer.

Funeral services will be held at noon Saturday at Roane County High School. Public viewing will be at 9 a.m. with a full firefighter funeral at noon. Graveside services will follow at Ferrell Cemetery along Route 36 in Looneyville.

Horwich leaves behind his wife and his three children as well many members of both Clover and Spencer-Roane fire departments.

He was a 20-year-fireman.

He had only lived in Roane County for a couple of years after moving from Nebraska, but left a mark on the community.

"He was a good, outstanding guy who loved the fire service," Clover Fire Chief Conrad said.

Horwich served in the fire service for over 20 years, even founding the company Fire Station Software, which sold record-keeping software to departments all over the world.

Roane County residents and businesses are urged to lower flags to half staff Monday through Friday in a show of grief, honor, and respect for Firefighter, Mark Horwich.