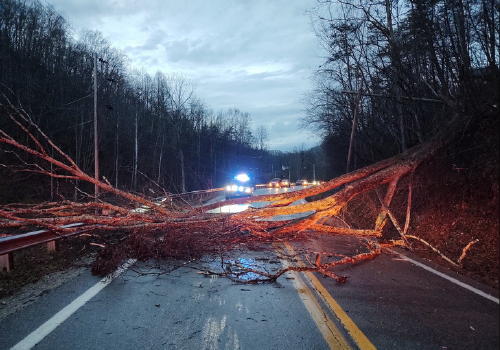 Photo courtesy of Arnoldsburg Volunteer Fire Dept.
High winds gusting 40-59 mph swept across Calhoun about 5 p.m. Saturday with trees and electric lines downed, including a large tree at Letherbark (US 33-119, with the Arnoldsburg VFD responding.
Early Sunday morning the Grantsville VFD responded to electric sparks on a pole on High Street.
Right smack dab in the middle of winter, Saturday the temperature peaked a record 77 degrees in Calhoun and the region.
There were still power outages in Arnoldsburg and other areas Sunday.
Saturday's high winds damaged buildings across the WV region Saturday evening.
Sunday night the temperature was expected to drop below 40 degrees.
HUR HERALD WEATHER ICON RESTORED ON FRONT PAGE