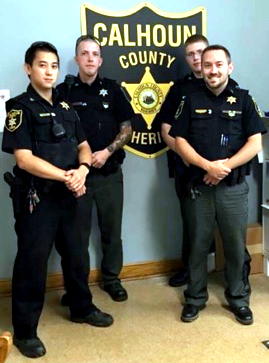 The Calhoun County Sheriff's Office has released call data, obtained from Calhoun E-911.

The data shows a huge proactive increase of activity in covering the county.

ANNUAL TOTALS FOR CCSD:

2017 – 928 (including 359 traffic stops)
2018 – 826 (including 261 traffic stops)
2019 – 1,440 (including 804 traffic stops)

Calhoun E-911 data for the previous administration from January 1, 2012 to December 31, 2016 shows only 460 total calls for a four year period for the Calhoun Sheriff's Department, that number also included traffic stops.

Chief Deputy Jason Chang also reported that Sheriff Jeff Starcher led the Calhoun County Sheriff's Department with the most cases, followed by Deputy Sheriff C. J. Myers, Chief Deputy Jason Chang, and Deputy Sheriff/PRO Officer W. T. Raines.

The Grantsville Police Department, had the following activity:

2017 – 200 (including 68 traffic stops)
2018- 186 (including 67 traffic stops)
2019-104 (including 31 traffic stops)

Sheriff Jeff Starcher said that number of traffic stops has inflated due to his deputies working highway safety overtime patrols (which includes DUI patrols), routine patrols, and active drug interdiction patrols.

Sheriff Starcher said, "This administration has made an active stance against the drug epidemic in Calhoun County. These call numbers show that we have striven to transform the Calhoun County Sheriff's Department into the proactive law enforcement agency it is today."