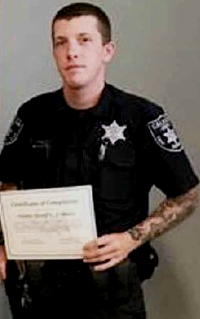 Calhoun Deputy Sheriff C. J. Myers reported to the West Virginia State Police Academy on Monday for training, according to Sheriff Jeff Starcher.

Deputy Myers was hired as a Deputy Sheriff in December of 2018.

To be certified as a law enforcement officer in the State of West Virginia, officers must complete sixteen weeks of rigorous physical training, criminal and traffic law, emergency vehicle operations, homicide, accident, and death investigations, use of force, and officer survival training.

Once hired, all entry level officers must make application to the Police Academy for training, within one year of their date of hire.

Upon graduation from the West Virginia State Police Academy, all members of the Calhoun Sheriff's Department will be fully certified. Deputy Myers also serves as the county's home confinement officer.

He is projected to graduate the police academy at the beginning of May, 2020.