DR. JOE CAIN TURNING 91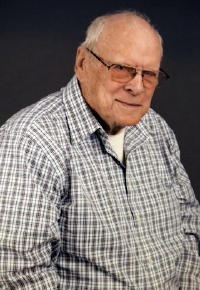 2019 BIRTHDAY STORY - Dr. Joe Cain, a well-recognized name in the community has provided veterinary help to farmers and pet lovers for over 60 years, is turning ninety.
He was born in the Big Bend, WV, son to Eva and Everett Cain.
He recalls asking his father about a man working on one of the horses and was told there were no vets in the area. He told his dad there would be someday and it would be him.
A graduate of Calhoun County High School, he served in the army during the Korean Conflict.
He completed his education at Ohio State University School of Veterinary Medicine after completing a degree in agriculture at WVU.
His first office was in a small building behind his home.
He made farm calls in the surrounding counties, traveling up to 70,000 miles a year.
"I've always enjoyed the people and always felt welcomed."
Joe has also served on many community committees.
While providing veterinary services to eight counties, Joe also maintained a herd of Hereford cattle.
On October 19th Joe's cattle were featured at the WV state Hereford Polled Association at Jackson's Mill.
Joe still lives in Big Bend and has three children and five grandchildren and one great grandchild.
His family is hosting an Open House on November 16, 2019 at the Brooksville Baptist Church from 3:00 to 5:00.
Cut the cake at 4:00, no gifts please.