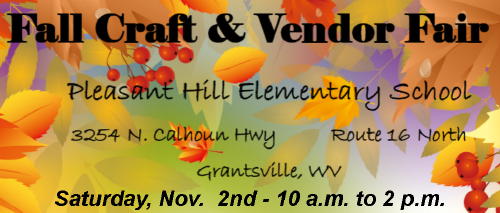 Pleasant Hill Elementary School will host the annual Craft and Vendor Fair, Saturday, Nov. 2nd from 10 a.m. to 2 p.m. at the school. Concessions will be also be sold – Stop by shop and and get dinner for your family!
The following crafters and vendors are scheduled to be there:
Patsy Kisner & Cindy Morgan – crafts, seasonal décor, antiques
Eugene Breza-Tanner Leather Works – belts, journals, wallets, phone cases, pouches, guitar straps, etc.
Smith Family Farms – alpaca products – gloves, scarves, toboggans, socks, wrist warmers, yarn, etc.
Eden Holbert – handmade wooden decorative seasonal items
Vickie Allman-Color Street Nails – nail polish strips
Joyce Jarrell-Hicks-Lilla Rose Hair Accessories – bobbies, hairbands, flexi clips, leather & hair sticks, metal shaped upins, badge clips, lanyards
Kelli Collins-Thirty One – Thirty One bags & totes
Elva Lamont/-ucky Hearts Farm – goat milk, soap, lotions, meat sticks
Patty Mistyhn – painted slates, ornaments, WV signs, cap signs, assorted wood items, decorated skates
David Gerlach-Gerlach Rustic Wood Designs – wood burnings, wall hangings, small tables
Daniel Laughlin – Longaberger baskets, lotions, new toys, candles, DVD's
Judy Brannon-Doterra – Doterra essential oils
Marti Conrad-Limelife by Alcone – skin care & make up
Wilsie Sandy – Crochet items, baby blankets and other items
Adrianna McGlothlin-Greenhouse 655 – plants, macramé plant hangers, t-shirts
Jenna Jett – Wood & primitive items
Samantha Wilson-Relax, Refresh, Renew – Massage
Jo Moellendick – Baskets
Shannon Jones-Mary Kay – Makeup
Patty Haught/Norwex – cleaning items Barbara Duskey-Paparazzi – Jewelry & accessories
Plunder Jewelry
... and Student made items!