By Jess Mancini
Staff Reporter
www.newsandsentinel.com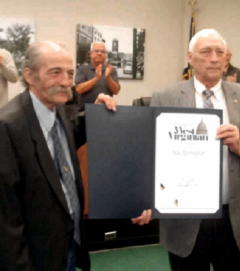 Singer and songwriter Mike Morningstar, left, a Parkersburg native living in Gilmer County, receives a standing ovation at Tuesday's Parkersburg City Council meeting after being presented with the Distinguished West Virginian Award by state Delegate John Kelly, right, R-Wood, on behalf of Gov. Jim Justice. Morningstar, 72, retired after 50 years of performing. His life was memorialized in the movie "Mike Morningstar: Here's to the Working Man." (Photo by Evan Bevins)
A Parkersburg native and musician was named a Distinguished West Virginian by the governor in 2019.
Mike Morningstar, 72, received a certificate denoting the honor on behalf of Gov. Jim Justice from Delegate John Kelly, R-Wood, during Tuesday's Parkersburg City Council meeting. Morningstar said he was both surprised and appreciative of the award.
"I felt honored just being nominated for it," Morningstar said.
Morningstar, who now lives in Gilmer County with his wife, Donna, is a retired renown musician and songwriter. A veteran of the Vietnam War, he began his professional career at the age of 16 in a rhythm and blues band.
Among the artists he has opened for are the Marshall Tucker Band, Vince Gill, the New Riders of the Purple Sage, Pure Prairie League, Tom Wopat and Dan Seals, among others. He appeared on "Mountain Stage," a nationally syndicated program of West Virginia Public Radio, in 1993.
Morningstar's life was the subject of a movie "Mike Morningstar: Here's to the Working Man." The show debuted in 2016 at the Smoot Theatre.
He retired after 50 years of performing in honky tonks, bars and other venues. While the neuropathy in his hands has limited his appearances and playing the guitar, he still performs with guitarist and songwriter Dustin McCray when McCray has an opening in his schedule.
"I'm enjoying my retirement," he said.
Distinguished West Virginian Awards are seldomly given, Kelly said.
"They're not given out like candy at Halloween," he said.