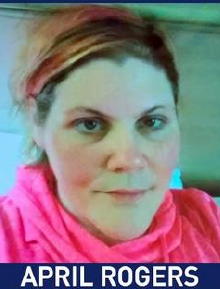 UPDATE 8/9/2019 - The Roane County Sheriff's Office is asking for the public's help in locating a breaking and entering suspect.

April Rogers is wanted for grand larceny and conspiracy and breaking and entering, Sheriff L. Todd Cole said.

Rogers is wanted in connection to an incident that happened at Amber's Hot Spot along U.S. 33 in Spencer where $3,000 was stolen.

Anyone with information on her location is asked to contact deputies at 304 927-3410

8/8/2019 - A Calhoun County man has been charged with stealing over $3,000 from the safe at a slot machine parlor near Spencer.

The owner of Amber's Hotspot II on Arnoldsburg Road reported someone used a key to open a safe at the business and steal $3,165. Based on security camera footage police said documented the crime, the theft occurred around 4 a.m. on July 18.

A recording from a security camera in the office showed someone used a key hidden in the office to open the safe. The suspect was later identified as the same man who allegedly had taken an employee's car and not returned it for several days.

Footage from cameras at the Speedy Mart in Arnoldsburg showed the slot parlor employee, April Rogers, and the suspect in the same car that stopped for gas at the store shortly after the theft.

Roane Sheriff Todd Cole charged Quentin Curtis Griffin, 22, of 2900 Altizer Road, Arnoldsburg, with grand larceny, breaking and entering and two counts of conspiracy.

Griffin was arrested in Wood County July 23 and lodged in the regional jail in lieu of $75,000 bond pending a preliminary hearing.