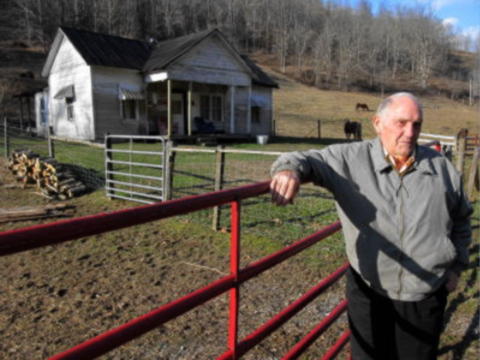 Halman W. Nettles, 87, of Gip, Braxton County, has died.
Nettles was a Braxton businessman and farmer, well known to the Calhoun community.
A businessman, he operated Mt. Nebo Tractor and Equipment for eight years and then Nettles Equipment for the last 30 Years. He was a farmer having bought his first cow when he was seven years old. He was also a minister of the gospel preaching his first message at age 19. Halman was a veteran and served four years in the U.S. Army stationed in Germany. He had a love for a simple life and was very proud of his family. Halman enjoyed reading the Bible and was a member of Gip Community Church.
Visitation will be 6 to 9 PM Tuesday, August 06 at Richard M. Roach Funeral Home, Gassaway.
Funeral Service will be 11 AM Wednesday, August 07, 2019 at Gip Church with military rites following the funeral.
Interment will be in the Nettles Family Cemetery, Elmira.
See also   HALMAN NETTLES RAISIN' CATTLE OVER 75 YEARS - Gip-Elmira Was Farming Community