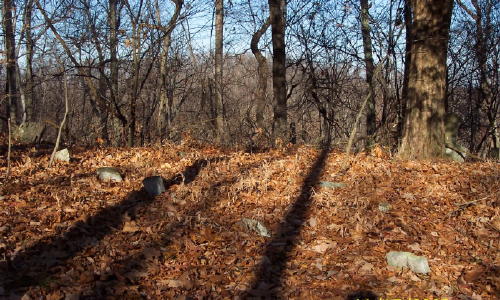 Photo by Russ Richardson, Forester
By Bob Weaver
Deep in the woods at the head of the right fork of Rush Run between Rt. 16 and Beech Road is a small cemetery where some early members of Calhoun's Wayne family reposes.
Most of the graves are marked with rocks, but a few have been recorded.
The Waynes are descendants of very early settlers, the Mucklewains, who are buried along the Altizer Road near Rocksdale in the Winner Ball Cemetery.
Over the years, Mucklewain was shortened to Wayne.
Listed in the small cemetery:
Jacob Wayne (1808-1893)
Peter M. Wayne (1866-1937)
Nancy Barnhouse (1836-1910) Third wife of Jacob
May Wayne (1901-1901)
Infant child of Floyd and Pricey Sampson
Infant child of Bill King
A newer Wayne Cemetery was established along Beech Road, a cemetery that likely has the best home crafted monuments in Calhoun.
EARLY COMER TUNICE MUCKLEWAIN RESTS ALONG LOWER WEST FORK - Descendants Calhoun's Wayne Family
CALHOUN'S OLD WAYNE CEMETERY - Memories, Deeds, Tears And Glories