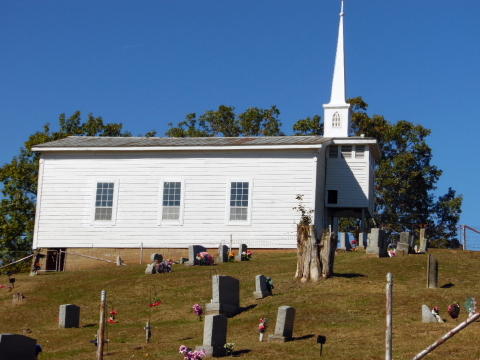 Norman Ridge Church, known formerly
as Fairview United Brethren Church
By Ken Richards
Fairview United Brethren Church was constructed around 1905. Built by Charlie, Mac and Reuben Richards along with the help of the community, the church sits on the property that was donated by Clara Bell Richards Holbert, sister of Charlie, Mac and Reuben.
Fairview United Brethren Church, now known as Norman Ridge Church was dedicated around 1906. Services were held in this little white church for over 90 years. Norman Ridge Cemetery is located on the church property where many family members are laid to rest. In 2002, Johnny Bill Yoak donated an additional acre of land to the existing cemetery. Alvie and Beatrice Richards Yoak, Ag and Alba Yoak and Rosie Davis were among many that kept this beautiful spiritual church going for many years.
Shird Richards, a lifelong member of Norman Ridge Church could often be seen leading the music while Ken Richards sang and Shird played the guitar. It was the Norman Ridge Church congregation that would become Ken's first audience as he sang "Do Lord" at the ripe age of 5 years old.
Shird was known to call on the congregation to give their testimony...unexpectedly, from time to time. In fact, Randy Wilson, whose family attended here, would be called on by Shird to lead the service one Sunday morning. This would turn out to be Randy's first time preaching after finishing seminary. Randy still preaches today at Glenville Community Church in Glenville, WV.
Over the years, it became increasingly difficult to maintain ministers on a regular basis due to decreased attendance and financial support, but the love of this little white church that sits high on the hill lives on.
There is just something about this beautiful place that is unexplainable, but one thing is for certain, the love and memories of this little white church carries on from generation to generation.
Church services are no longer held here, but Norman Ridge Church will live on in the lives of many who love it.
And one thing is for sure, you can certainly feel a peace come over you when you walk through the doors. The spirits of the ones that loved this little church will live on forever in our hearts and we can feel close to them once more when we are here.