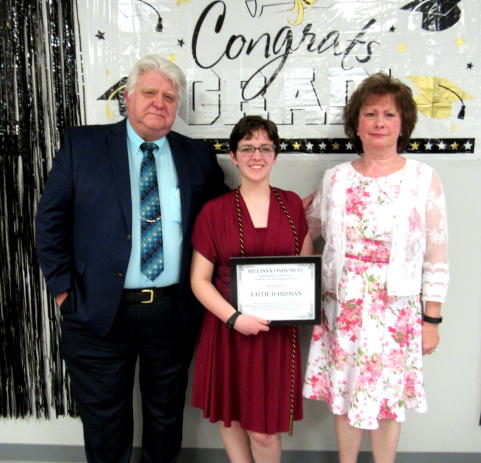 John and Sue Oshoway with Faith Hardman
Gilmer County High School student Faith Hardman is the 2019 winner of the Melissa Gayle Oshoway Criminal Justice Memorial Scholarship. Faith will attend Glenville State College in the fall, majoring in Criminal Justice.
Melissa Gayle was in a car accident on Christmas Eve 2004 and passed away on January 5, 2005. In an effort to see that this vibrant young lady's memory lives on, the Scholarship was formed by friends and family and is in memory of Melissa "Missy" Oshoway, daughter of John and Sue Oshoway.
This is a special tribute to her caring spirit and the funds will assist in the education of students dedicated to achieving their goals like Missy was.
If you would like to help, please send donations to: Melissa Oshoway Criminal Justice Scholarship Fund, P.O. Box 136, Grantsville, WV 26147 or contact John or Sue Oshoway at 304-354-9204.