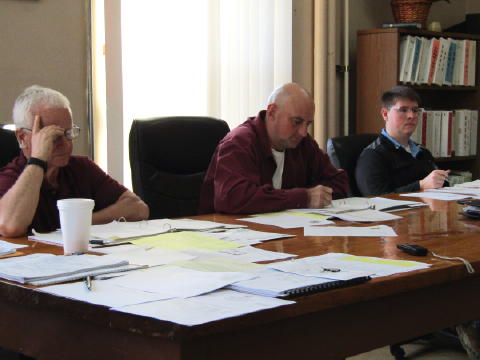 (L-R) Commissioners Westfall, Helmick, and Hicks
By Bob Weaver
Calhoun's tax base is shriveling.
This week the Calhoun Commission reviewed what many would consider a dire problem. The tax base has been stagnant for several years and worsening, the county struggling to support basic constitutional services.
"We have made nearly all the personnel cuts we can make over the years, many offices having just one or two employees. And now we've been forced to whittle away their health policies," said Commission President Kevin Helmick.
In the 2019-20 budget employees are being required to pay $100-$200 monthly on their health insurance.
"Cutting benefits is a measure we have been able to avoid for several years," said Commissioner Chip Westfall, and elected officials have been struck too.
President Helmick said, "Total county revenue was $2,360,050.87 four years ago. Now it's $1,646,606.26. These numbers reflect the county, E-911, and the ambulance authority. Real property tax money went from $874,219.55 to $725,890.95 in only a four years time. Real property is mostly land, vehicles and houses. No severance taxes included."
Insult to injury, the county has had to shift money to basic services, short-changing the regional jail bill, unable to pay on the bill for just over a year. It now totals $372,000. (See Letter Below)
Calhoun is not alone paying jail bills. A number of counties, mostly rural and underfunded, have problems. Webster's bill has risen above $2 million and Clay's bill is $850,000.
"The jail bill is killing our ability to stay above water," said Helmick.
"The county's current budget problem is the culmination of property assessment values decreasing and the amount of delinquent taxes (individuals and businesses not paying taxes) increasing over the past several years," said Commissioner Michael Hicks.
"To address the continuous revenue decreases, the Commission has consistently reduced the budget and cut expenditures to the point that the county government is as efficient as possible, and is undoubtedly one of the most efficient county governments in the state in terms of doing the most with the least," Hicks said.
Calhoun Schools are critically suffering for financial resources. They receive 60% of all taxes collected by the county. Added to the schools financial tax shortfalls is the decline in student population, the county gets capitated money for each student from the state's school funding formula.
The school system has now dropped below 1,000 students.
Meanwhile, over the past decade, the number of delinquent taxes have risen by about 50%, to an all time high.
Even if the county gets a tax boost from taxes received from a TransCanada compressor station in 2020, it will likely go to just catching up.
Commissioner Westfall says the WV Legislature has been on the verge of eliminating most taxes on oil and gas development, which means, "The county would get zip from the compressor station project."
"For several years the county has been able to juggle funds and "make do," eliminating county positions which were already near bare bones, cutting their budgets and benefits," said Westfall.
Money has been dredged from a small Rainy Day Fund to fill a few gaps.
Tuesday, the commission did increase the Transfer Property Tax which could mean about an additional $8,000 increase in revenue.
The commission has managed to put together an ambulance authority which provides one ambulance with crew around the clock, with some other back up locally, with help from regional counties. That service is minimally sustained by an Emergency Services Levy, bolstered by collecting fees for service, which has been tenuous this past year.
"The collection of fee for services is improving," said Commissioner Michael Hicks.
EMS services are struggling in many rural counties, including being able to attract credentialed workers.
Click to see   Commissioners letter to State Auditor