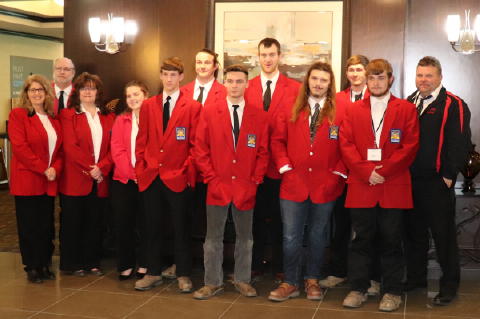 (L-R) Shirley Hupp, CGCC Assistant Director; Carl Collins,
Welding Instructor; Karen Blankenship, RN, Health Science
Instructor; Kaylene Snyder, Nick Bush, Bryson Montgomery,
Jesse Kargol, Ben Knotts, Logan Greenlief, Matthew Chase,
Ryan Little, and Paul Parsons, Construction Instructor
Eight Calhoun-Gilmer Career Center students with their advisors traveled to Fairmont State University to compete at the 2019 SkillsUSA West Virginia State Leadership & Skills Conference, on March 22-23.
Every student that attended placed in the Top Ten in their respective event: Carpentry – Bryson Montgomery, 9th place; Masonry – Ben Knotts, 5th place; Medical Terminology – Kaylene Snyder, 7th place; Plumbing – Logan Greenlief, 5th place; Welding – Ryan Little, 5th place; Welding Fabrication team – Nick Bush, Matthew Chase, Jesse Kargol, 5th place. Congratulations to these Calhoun-Gilmer Career Center students.