Sergeant State Police Sergeant Andrew Pringle is an officer working on The ICAC [Internet Crimes Against Children] and was the guest speaker at the Calhoun Composite Civil Air Patrol meeting Tuesday March 12th. Sergeant Pringle has been with the State Police 17 years and with the ICAC Unit for 10.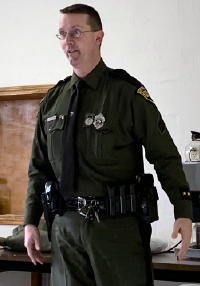 Sergeant Pringle (right) explained how serious Internet crimes against children are in this age of social media. He talked with the Cadets, Senior members and parents attending the meetings about the dangers of "chatting with people" online that you don't know personally because you may think you are talking with a person your age but it quite possibly could be a pedophile or a trafficking ring.
He also explained the danger of posting pictures that you think will disappear after it is viewed because once you put it on the internet it's there forever. Now employers, college entrance committees, state police academy review boards, all view your information on social media prior to hiring or granting admissions to their organization.
Something you posted as a youth thinking it was cute or cool could actually cause you to be denied the school or job of your dreams to be out of reach just because in a point in your life you made a poor choice to put something on the internet.
Sergeant Pringle gave parents the names of several applications that can be downloaded to children's electronic devices that will alert parents of inappropriate context or contacts going to the youth's device.
The Calhoun Squadron certainly appreciates Sergeant Pringle taking time out of his schedule to come speak to us about Internet Safety for our Cadets.