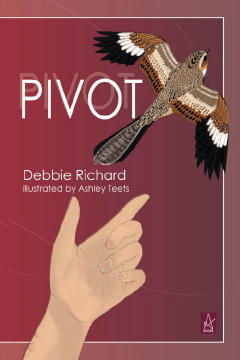 New York, NY - Adelaide Books is proud to offer the latest work by Debbie Richard Pivot is hitting stores everywhere, since January 28th 2019.

This collection of poetic works articulates turning points that result in drastic change, realization, and understanding. From an Olympian ice arena to the cool cement floor of an Appalachian cellar, "Pivot" takes the reader on a tour of poems spanning a broad spectrum of people, places, events, and time periods. From simple household chores to the emotional discovery of a mother's precious heirloom and "going for the gold," turning points channel, challenge, and change the course of our existence and clarify our purpose.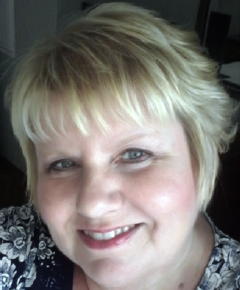 "Debbie Richard (right) explores the beauty and honesty of love, regret, loss and the feelings that come after all of it. There is a delicacy and maturity in her frankness." (Carrie McCullough Jenkins, freelance editor/publishing consultant.)
"Debbie Richard, in her poems, poignantly observes the values and needs, the pains and joys, in the human and natural worlds. She meshes all with the spiritual, her appreciation showered with grace, honesty, and love, and, finally, acceptance of what she cannot change. I love her poems." (David Selby renown actor and the author of My Mother's Autumn and Promises of Love.)
Debbie Richard, author and poet from Wirt County, WV is listed in the Directory of Poets & Writers as both a poet and creative nonfiction writer. Her poem, "Between Two Worlds," was selected as Adelaide Voices Literary Award for Poetry Finalist for 2018. Her poems have appeared in Torrid Literature Journal, Adelaide Literary Magazine, Scarlet Leaf Review, WestWard Quarterly, Halcyon Days, and others.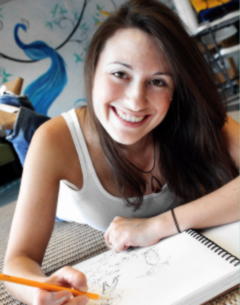 Ashley Teets (left) illustrator of Pivot, specializes in children's art, illustration, Graphic design, and mural work. She has illustrated multiple award-winning children's books that include 14 Mom's Choice Awards, four Indie Book and an Indie Excellence Award, an International Book Award, a USA News Best Book Award, and four Creative Child Magazine Awards.
Books are available at Amazon.com, Our-WV.com, and other booksellers.
For more information, visit the author at
  www.debbierichard.com   or the publisher at   www.adelaidebooks.org