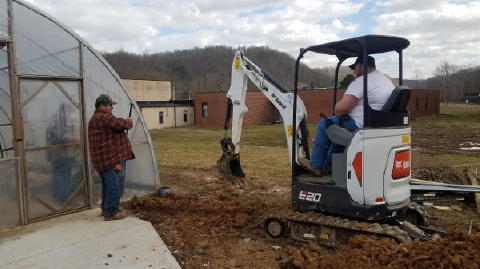 David Dickey standing and Justin McKown running the backhoe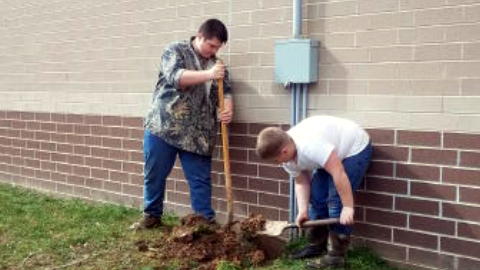 Eli Dickey and Braydon McKown bury conduit
Arnoldsburg Elementary would like to express their appreciation to Justin McKown, Braydon McKown, David Dickey, and Eli Dickey for their help in getting heat to the greenhouse. On February 24th, Justin, with the help of David and Eli, used a small backhoe to dig and bury the conduit to the greenhouse so that heat could be installed. Heating the greenhouse will allow the school to have hanging baskets of flowers ready for Mother's Day. Arnoldsburg Elementary staff and students say, "Thank you for your support of the school and the children."
In additional support, Principal Charles Thomas wrote: "With a packed house, the school raised a little over $15,000.00 at their annual Bingo on March 2nd. Proceeds from this event will help the school develop a ball field which will used for baseball and soccer and build a pavilion with a kitchen and bathrooms.
The school would also like to thank all those who contributed; local businesses in Arnoldsburg, Grantsville, and Spencer, friends, community members, and businesses outside the county.
A big thanks for your generosity goes out to: Speedy Mart, Master's Bouquet, Mayle Farms, Calhoun Banks, His Heart Ablaze, Melissa Falls, Crystal Jarvis, Krystina Stewart, Nicholas Family - Travis, Twila, Haley, Kaley, Anna & Abby, Shirley & Angie Naylor, Hardman's of Spencer, Renita Benson, VROOM- Robin Hudson, Cub Scout Pack 430, Camden Park, AES Title 1, AES Fourth Grade, Save The Children, Tammey Webb & Lisa Hawkins, AES Pre-K, AES Kindergarten, AES First Grade, AES Second Grade, AES Third Grade.
Also, Gwinna's House of Hair, Mrs. Cathy, Nurse Trudi & Office Volunteers, Brylee, Kynlee & Kruz Brenneman, Crystal's Complete Hair Care, Marous Brothers Construction, State Farm - Bridget Smith, Cummings Tree Service, Boy Scout Troop 430, Babcock State Park, Blackwater Falls State Park, Miller Family - , John, Jennifer, Kaci & K'lyn, McClain Family - Jared, Debbie, Nathan, Faith & Mikey, Pittsburgh Zoo & PPG Aquarium, Bryan & Travis Thomas, Julie & David Garrett, Dwanetta Martin, Casto & Harris, Farmers Friend, Stump Funeral Home, Arlene & Rick Sampson, Shelly and Jeff Mace In Memory of Chris Mace , Cheri White, Hildreth Supply, Tractor Supply, Pizza HutDaniel Laughlin, Alyssa Falls, Cooper & Carper Summers, Four Seasons Athletics, Crystal Greathouse, Jason & Maria Arnold, Holbert's Store.
And, Horace Mann Insurance, Jeannie Bennett, Rex Yoak & Family, McIntosh Hardware & Appliance, Hildreth Supply, Dave & Sylvia Conkey, Mini Mart, Lora Davis, Sam & Eli Bailey, Ordinary Evelyn's, The Barn Restaurant, Hardman's of Grantsville, Jus Teasin' Salon & Polish Me Pretty, Robey Theater, Aubrey, Mason & Lana Laughlin, Eliana and Axton White, Save The Children - Suzanne Allen, Doris & George Weekley, Blennerhassett Island Historical State Park, The Outdoor Store, The Y Restaurant, Jack Garrett Ford, Run for Reagen, Team Reagan Softball 2019, Gary's Sporting & Pawn.
Finally, we would like to thank all those who volunteered their time to prepare for the event and work the evening of the event.
Thanks again to everyone for making the event a success and for your support of the children at Arnoldsburg Elementary School."