Local artist, Loretta Stewart of Parkersburg, is an award-winning artist and a member of the Air Force Art Program where her art is displayed at the Pentagon in Washington, DC. She specializes in a pen and ink technique called stippling and also a mixed medium of colored pencils and markers.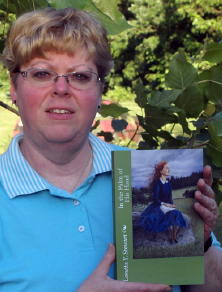 Loretta (pictured left> has participated in the Mayberry Days festival in Mount Airy, NC. Enjoy a bottle of pop while playing checkers or take a ride in the squad car just like the one on the Andy Griffith Show during Mayberry Days. Loretta's work is still on display at Wally's Service Station, 625 S. Main St., Mount Airy.
Among other accomplishments, Loretta won the prestigious award of Best of Show at the Mountain State Arts and Craft Fair in Cedar Lakes with her mixed media piece, "Photographs and Memories."
After several years of custom framing at a craft store, Loretta opened her own gallery in July 2018 in Parkersburg, "Stewart's Gallery and Custom Framing" located at 2701 Pike Street, Suite 7, Parkersburg, WV, beside Big Lots on the Southside. Stop by and see Loretta this month for holiday specials on custom framing, pick up some of her artwork, or sign up for a painting class where they will be painting ornaments: unlimited ideas for your Christmas shopping pleasure.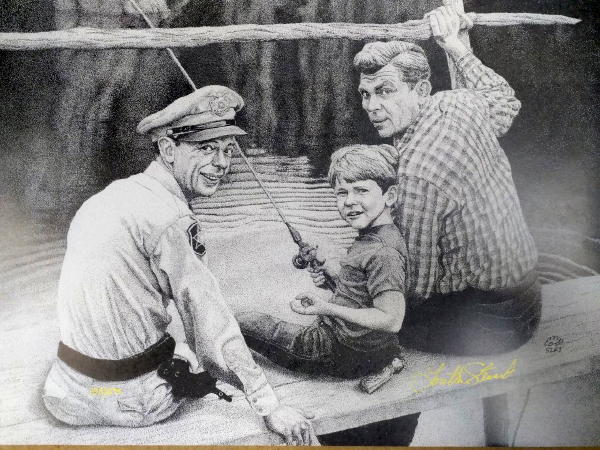 Gone Fishin' by Loretta Stewart, depicts The Andy Griffith Show
characters, Sheriff Andy Taylor and son Opie and Deputy Barney Fife
Loretta Stewart is also a published author with two books in print, In the Palm of His Hand and The Long Journey Home. She is currently working on a trilogy. Her autographed books can be purchased at Stewart's Gallery and Custom Framing or online at her Artisan Store at Our-WV.com
She can be reached at (304)210-1217, by email at thedotlady@hotmail.com or follow her on facebook.