See   Out & About   for more events coming up at the CCCOA.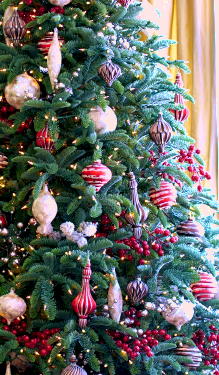 The Calhoun County Committee on Aging [CCCOA] would like to open our doors to you for the holidays!
Throughout the months of November and December, the CCCOA will be scheduling several community events that we would love to see become annual community traditions.
One of those events is the Evergreen Expo set for Dec. 7 at 5 p.m.
We are now taking reservations for this year's 2018 CCCOA Evergreen Expo, which will feature a collection of Christmas trees decorated by area businesses and organizations. Members of the community will vote on which tree they like best by placing money in designated containers, and the winner of the voting will split the proceeds of the silent auction for all of the trees with CCCOA.
Everyone is invited to join in; all that is required is some Christmas spirit and the desire to participate in an uplifting community project that could also benefit your business or organization (or any community organization of your choice)
Simply register with CCCOA, decorate a Christmas tree, and bring it to CCCOA for display and to be viewed and voted upon. More about the event and the trees are detailed in the 2018 Evergreen Expo Guidelines and Entry Form.
Printable Evergreen Expo Registration Form
Tree set up starts November 14th and everything will be in place well before the December 7th festival opening. During this time, the trees will be open for viewing by the public and everyone will be able to place their vote for "Community Favorite" by dropping pennies/monies in a designated voting container set out for each tree.
Everyone will also be able to place silent auction bids for the purchase of a decorated tree that you'd like to take home.
All voting and silent auction bids will end at 6:00 p.m. on December 7th, the night of the Annual Christmas Parade in Grantsville following this event at 7:00 p.m., if you would like to register for the parade, please call 304-354-7017. Watch for postings and further details on CCCOA's Facebook page.
Keep in mind that the purpose of your tree is for a chance to raise money for your business, organization or group, so make it look its best! You never know if a silent auction winner is purchasing for personal use or as a gift for someone less fortunate, so please use extra care.
On December 7th at 5 pm, the CCCOA will open its doors to the public for a musical performance provided by the Little Kanawha Valley Christian School. When the performance has concluded, everyone will have one last time to view the Christmas trees, place their vote for "Community Favorite" and place any final silent auction bids at that time.
The "Community Favorite" winner will be announced during the parade, and the winner may pick up their half of the silent auction proceeds on Monday, December 10th at the CCCOA. The silent auction winners will be called on Monday and allowed to pick up their trees also.