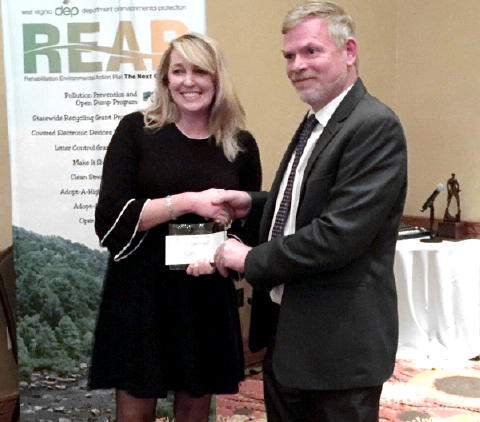 Amanda Morris and Terry Carrington, Make It Shine Coordinator
Amanda Morris, teacher at Pleasant Hill Elementary School, has been selected as the 2018 WV Make It Shine Environmental Teacher of the Year - Elementary Grades. In an effort to promote environmental stewardship and education in West Virginia, the WV Department of Environmental Protection sponsors the Environmental Teacher of the Year Award. Winners are chosen in the elementary, middle and high school levels.
Mrs. Morris was nominated by her peers for this award based on her recycling efforts at PHE. She began the Pleasant Hill Elementary Recycling Program eight years ago. What started as a small recycling effort has grown into a cardboard, plastics and paper recycling program that requires disposal weekly or bi-weekly.
Mrs. Morris trains students to break down cardboard and to collect and sort recyclables from all areas of the school. She has obtained containers and bins from the local Solid Waste Authority to be used in classrooms and at the school recycling area. She also orchestrated a field trip for all PHE students to the local recycling center so students could see where the recycled items go and how they are processed.
Mrs. Morris has also been instrumental in the construction of a high tunnel at PHE for students to learn how to grow their own food. She has assisted with student fundraisers to donate money to the Calhoun County Solid Waste Authority and the local Department of Natural Resources to help with their efforts to keep our county litter free.
As a recipient of this award, she received a $500 personal award, a $1000 award to be used in promoting STEM programs in her school, and an invitation to the Association of WV Solid Waste Authorities Annual Awards Banquet which was held on October 29 at Stonewall Resort.