5/9/2019 - A Leading Creek man, Grover Lee Knight, 43, has been indicted by a Calhoun Grant Jury. He was arrested in September, 2018, after he stabbed a Leading Creek woman in the neck three times.

Knight was indicted on one count of attempted murder, a felony; one count of malicious assault, a felony; two counts of burglary, both felonies; two counts of assault during the commission of and attempt, both Felonies; two counts of battery on an officer, both misdemeanors; and one count of obstructing an officer, a misdemeanor.

The case was investigated by Sgt. C. J. Weekley of the West Virginia State Police.

He is being held in Central Regional Jail on $225,000 bond.

KNIGHT STABS WOMAN IN NECK SEVERAL TIMES ON LEADING CREEK - Man Breaks Door To Gain Entry, Says "He Will Kill Her"

9/25/2018 3 PM - A Leading Creek man, Grover Lee Knight, Jr., 43, is facing multiple charges, including attempted murder and malicious assault against a Leading Creek woman identified in a criminal complaint as Janet Louise Patterson, a woman reportedly in her 70s.

Knight, while physically assaulting the woman sitting in a chair after breaking through the door of her mobile home, stabbed the woman in the neck three or four times. She was taken to a Parkersburg Hospital for treatment, and then taken to Morgantown for surgery. Reports say she is improving.

According to the complaint, Knight told the woman he was going to kill her.

The woman managed to escape the residence, and getting a ride to a nearby house to summon help.

When State Policemen Sgt. C. J. Weekley and Trooper 1st Class B. F. Young arrived on scene, they found Knight in the victim's yard, saying he was sorry and inquiring about his knife, according to the complaint.

Officers discovered plate glass in his pocket, taking him to custody. While transporting Knight to Grantsville, the complaint says he "did attempt to bite officer Young on the arm," kicking at officers, and was placed in leg restraints.

The complaint says that at the detachment Knight refused orders to sit down, and was placed on the floor.

Knight is facing multiple charges of attempted murder, malicious wounding, assault, battery on an officer, obstructing an officer and burglary.

He is in Central Regional Jail with bond at $220,000.

KNIGHT CHARGED WITH ATTEMPTED MURDER, MULTIPLE CHARGES IN LEADING CREEK STABBING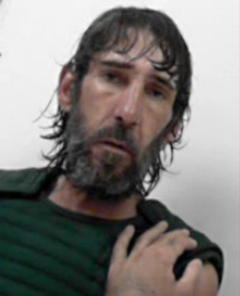 10:30 PM 9/25/2018 - A Leading Creek, Calhoun County man is facing multiple charges follow an incident Monday morning which reportedly involved the stabbing of a woman.
Grover Lee Knight, 43, is in Central Regional Jail on $220,000 surety/cash bond.
Knight is charged with attempted murder, malicious wounding, burglary, battery, battery on an officer and obstructing.
Details regarding the incident were not available Monday night.
More to follow.
ORIGINAL STORY 1 PM 9/24/2018 - A woman in a remote area of Leading Creek was reportedly stabbed twice Monday morning about 10:30 a.m.
The woman was allegedly claiming she was stabbed by an unknown man who allegedly "wanders the area" on Leading Creek, the incident happened at another location from where a 911 call was made.
Calhoun EMS responded to a residence on Ocie Lane, where the victim presented herself with the injuries, to then be transported to Camden-Clark Hospital.
Those reports indicated the woman did not have life threatening injuries.
State Police responded to the Leading Creek area looking for the person who allegedly did the stabbing, and found the man about one hour later and took him into custody.
State Policemen Weekley and Young responded to the incident.
Ocie Lane is near the intersection of lower Leading Creek and Sugar Camp Road.