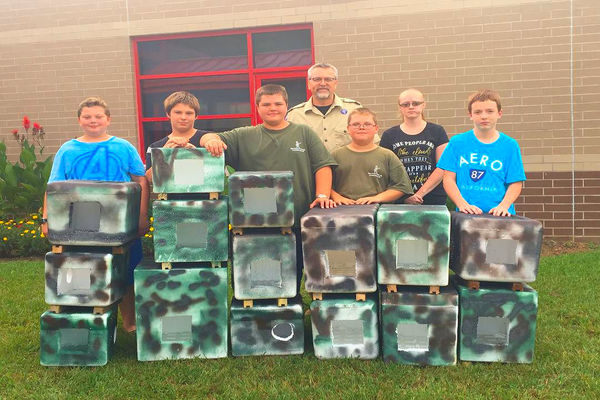 (Front L-R) Brian Thomas, Austin Yoak, Elijah Dickey, Nickolas
Dickey, Kaleb Morton (Back L-R) Scout Master Charles Thomas and
Assistant Scout Master Emily Adkins. (Not pictured) Assistant Scout
Master David Dickey, Ryan Sillaman, James Sillaman, and Dakotah Rook
During the spring of this year, Jane Carpenter, President of Welfare of Animals Group, talked to Boy Scout Troop #430 of Arnoldsburg about the plight of feral cats in our county.
As a community service the troop readily agreed to build winter shelters for these homeless cats. Pictures of shelter plans and materials were delivered to Charles Thomas, Scout Master, and the work began.
Materials were as simple as Styrofoam containers from Minnie Hamilton, some scrap lumber, bolts, and spray paint from Hardman's Supply added to the good hearted labor of the Boy Scouts.