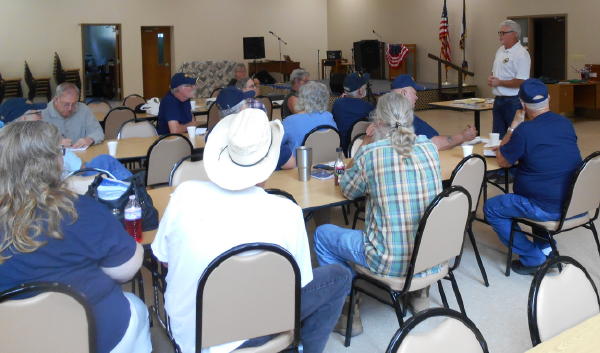 Bruce Murphy recounts the history of apple orchards in WV to members of the WCBA
Submitted by Al Darman
Secretary, WCBA
The West Central Beekeeping Association held their regular monthly meeting June 23rd. The meeting was called to order by President Dale Cunningham and Al Parsons led the members in the Pledge of Allegiance. There were 36 members and guests present which included the President, Secretary and Treasurer.
Dale reported that some of the My Community Fund Grant will be used for cost sharing of bees purchased by members this year. The remainder will be used for cost sharing of bee medication, including MiteAway, and feed. Members must submit receipts for purchase of medications and feed as well as any bees purchased other than through the club. The Secretary reported that 28 members have purchased bees and will be eligible for cost sharing of bees purchased once they have met the attendance criteria.
Brenda Tatterson reported the planning and staffing for the Honey Show, scheduled for Sept. 8th from 10:00 to 6:00 at the Arnoldsburg Community Center, was progressing nicely. She reported that 23 vendors are now participating in the event. The lasagna dinner is now scheduled for 12:00 to 5:30. She requested members bring in items for the Tote which will be offered as a raffle prize at the Black Walnut Festival. The event will be advertised on radio and in the newspaper.
Bruce Murpy from the WV extension office then gave an interesting account of the history of the apple in West Virginia. (see photo above) Did you know that the Golden Delicious apple is a native of West Virginia?
Vernon Kerns gave the blessing and lunch was served, after the meeting was adjourned.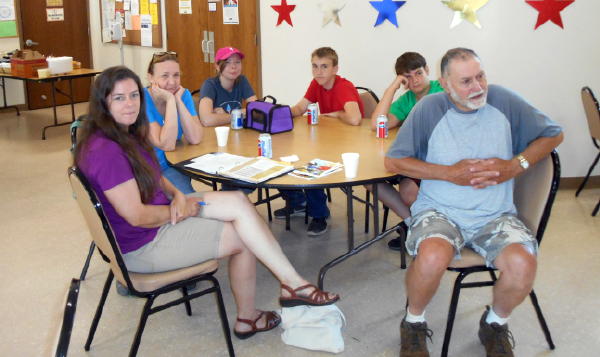 Enjoying Bruce Murphy's talk are (L-R) Heather Ann Hall, Linda
DeVries, Troya Browning, Thomas DeVries, Hunter Hall and Ray Hall