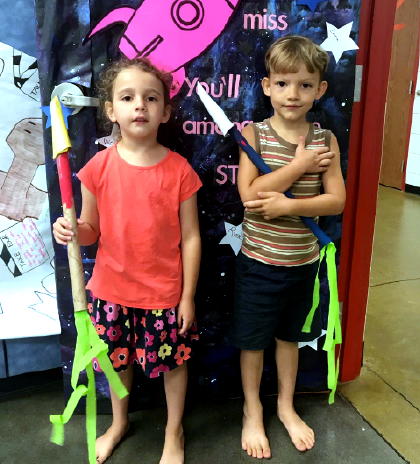 L-R: Harlow Sarratori and Onakai Dobbins
holding their rockets they made in STEM
Submitted by Makayla Smith
Energy Express Community Coordinator
The third week of Energy Express ended much too quickly due to the holiday and a main water break causing no water at the school last Thursday.
During week three, the mentors celebrated "Friends" week. The younger groups read The Pout-Pout Fish Goes to School, while the older groups read Stuart Little. In writing, to celebrate the Fourth of July and "Friends" week, the classes made acrostic poems, wrote letters to their best friends, and sent pen pal letters.
In art, they painted flags and created firework rockets. The children picked books based on the holiday to read to the volunteers during one-on-one reading.
In the afternoon, Save the Children program, the groups continued their math, GIRP, STEM, and nutrition rotations. In math, they worked on area, perimeter, and equations. In STEM, they continued building with legos; in GIRP, they challenged their reading skills. Because of no school, the students missed out on their nutrition lesson, but finished completing the pacer test.
Field Trip Details: The first field trip will take place July 20th, the students will be traveling to the Clay Center in Charleston, leaving around 12:30 and will return approximately 6:30. If parents are picking their child up, they should aim to be at Arnoldsburg at this time. The second field trip of the summer will be to North Bend State Park, July 24th. Buses will leave at 12:30 and return at approximately 7:30.
Also There will be an Open House for Summer Boost Express, at Arnoldsburg Elementary, Friday July 13th. All family of Summer Boost Express children are welcome. It will begin at approximately 10 a.m. Each class will perform a skit or play for their families and will be able to eat lunch together.