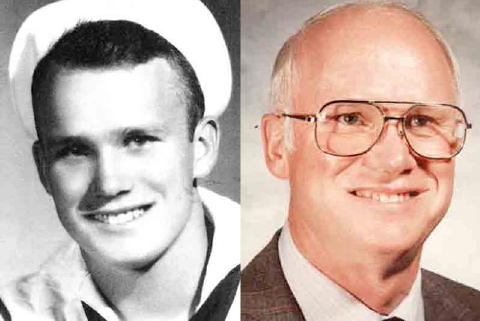 The last of Munday, Wirt Counties "Shimer Boys" has died.
92-year-old World War II veteran, longtime educator, coach, and community leader, Donald Millard Shimer died in January, 2018, in Sun City West, Arizona.
A memorial service will be held graveside May 10th at 1:00 p.m. at Mt. Olivet Cemetery in Parkersburg.
The historical Shimer family lived in the Freed area of Calhoun, his parents Lemuel Harley (L.H.) Shimer and Lovisa Fox Shimer moved to Munday, Wirt County where they operated a country store for many years.
Shimer's boyhood days were spent in Munday and he had many fond memories of growing up there.
He attend Wirt County High School and graduated in 1943. In January 1944, he joined the U.S. Navy. He served as a radioman, 2nd class (RM2) on the landing craft USS LCS (L)(3)-988. It was the Admiral's flagship—fast, maneuverable, and smaller than a destroyer, yet heavily armed.
He was involved in two sea battles, Okinawa and The Battle of Leyte Gulf. Don received several commendations for his service including The Asiatic Pacific Medal with star, Armed Forces Expeditionary Medal, Philippine Liberation Medal, and World War II Victory Medal; along with the American Theater Ribbon, and the Asiatic-Pacific Theater Ribbon.
In May 1946, Don was honorably discharged from the Navy, returning to Munday, and then attending Marietta College and graduating with a Bachelors Degree in 1949. He then earned his Masters Degree in Business Administration from West Virginia University in 1951.
Being a sports enthusiast, a coach, and a fierce competitor, he was the Head Coach of Walton High School's football team for 3 years, 1952-1954 and he was part of a group who formed Belpre High School's first football team where Don was the Head Coach for two seasons, 1955 and 1956.
Shimer began his professional career in education as a history teacher and then an administrator. He worked in Belpre school system from 1957-1964, the Stow school system from 1964-1984. where he retired as Superintendent of Schools.
In the mid-60's, for several years, the family visited and camped at National Parks, and saw much of the United States. His love of history included Presidential Libraries and U.S. Monuments and Parks.
He coached Little League baseball in Cuyahoga Falls, Ohio from 1966 to 1977. There were many fond memories and life-long friendships created. The players could always look forward to ice cream after the games, and yearly field-trips to watch The Cleveland Indians' double-header games.
After retiring, he ventured into entrepreneurship and partnered with his wife Patricia, oldest daughter Carol and her husband Art, and bought regional franchise rights to Fantastic Sams Hair Salons. He and Patricia worked as owners and directors for 10 years–1985 to 1995 before truly retiring to Sun City West, AZ where he spent his days on the golf course. He was most proud of his hole-in-one at the age of 79.
He was a life-long member of The United Methodist Church and served in many offices over the years.
A devoted family man, a wonderful husband and father, he cherished the time he spent with his children, grandchildren, and great-grandchildren. The children remember him as supportive, caring, loving, and a man of his word.
His lifetime of service to the community, to youth, and his ethical decisions will be carried on by his family.
In 2015, at the age of 90, Don was part of a group of Phoenix area veterans selected to travel to Washington, D.C. as a participant of the Honor Flight for WW II veterans. He greatly enjoyed the trip and was thrilled to be honored and thanked for his military service wherever they went.
Shimer is survived by his wife of 67 years, Patricia Stuart Shimer. They were married on June 11, 1950 and have 6 children. Carol Venzin (Arthur) of Loganville, GA, Donna Rowley (Mark) of Canyon Lake, CA, Randall Shimer of Ravenna, OH, Melinda Kline (Kurt) of Westfield Center, OH, Christopher Shimer (Lilia) of York, NE, and Rebecca Neal (Joseph) of DeBary, FL; 13 grandchildren, and 6 great-grandchildren; sister Barbara Butcher (Harold) of Sandusky, OH, and many nieces and nephews.
He was preceded in death by his parents, two brothers, Ronald Shimer and Herbert Shimer; and two sisters, Mavedelle Lieving and Madeline Prather.