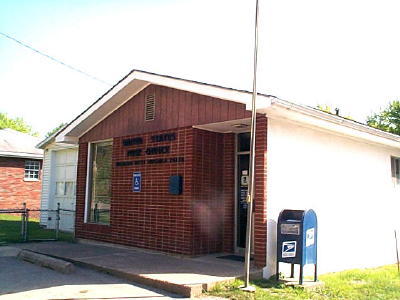 4/12/2018 - Customers of the Big Bend post office have received notification that the office will re-open next Tuesday, April 17, following its closure for repairs in February.
BIG BEND POST OFFICE REMAINS CLOSED RELATED TO ELECTRICAL PROBLEMS - Customers Have No New Notifications
By Bob Weaver
3/01/2018 - The US Post Office at Big Bend remains closed, the agency saying the problem is electrical wiring that needs fixed, but in the official notification of the temporary closure, there was wordage similarly used in advance of other permanent closures.
Postal customers have not had any further notifications.
HERE'S YOUR SIGN? BIG BEND POST OFFICE CLOSED, TEMPORARILY - Postal Customers Fear Yet Another Closure
2-20-2018 -Service has been temporarily suspended at the Big Bend Post Office because of an electrical problem in the building, according to Grantsville Postmaster Denise Pollack.
She indicated the problem is expected to be fixed by the owner of the building, although a letter received by Big Bend patrons indicates the issue could be much larger, having statements that led to the foreclosure of other post offices.
The letter placed in postal boxes on February 15 said it was closing on that same day for "safety issues," with a customer saying it "looks suspiciously like the one we got when they closed the Creston PO."
The Big Bend postmaster reportedly told customers it was closing for one week to one month because most of the building had to be rewired. Outlets were not grounded, with the building running on one or two circuits.
The letter says they will be holding a public meeting in Grantsville in the future to discuss the matter and "alternatives."
A Creston area resident, whose post office was closed, said "We are not excited at the prospect of driving 26 miles round trip to Grantsville to pick up a package too big for the mailbox."
Several post offices have been closed in recent years, leaving Grantsville, Big Bend, Big Springs, Millstone (only two miles from Arnoldsburg}, Arnoldsburg and Chloe.
In the horse and buggy days, the county had over 100 post offices.
Read Official Letter Below

Dear Postal Customer:
The BIG BEND POST OFFICE is currently suspended due to Safety issues. Therefore, it will be necessary to suspend services at the BIG BEND POST OFFICE at the close of business on 02/15/2018. This change is tentative and will not lead to a formal proposal unless we conclude that it will provide a maximum degree of regular and effective postal services.
While the office is suspended, Office will reopen when safety concern has been completed and the office passes a safety assessment. Please contact the postmaster of the GRANTSVILLE for advice regarding the potential placement of mailboxes. Customers presently receiving rural delivery will not experience a change in service, with the possible exceptions of picking up parcels and accountable mail at the GRANTSVILLE Post Office that the carrier was unable to deliver. BIG BEND POST OFFICE route customers will continue to use BIG BEND, WV 26136 as their last line of delivery.
Rural delivery is particularly beneficial to senior citizens, people with disabilities, and working people because no one has to pick up the mail from the post office. You will have 24-hour access to your mail. In addition, the rural carrier can provide all the retail services provided at the BIG BEND POST OFFICE. Most transactions do not require meeting a carrier at the mailbox. Stamps By Mail order envelopes and Money Order Application forms are available for your convenience; or you may place a note in the mailbox, with payment, and the carrier will provide the requested services. When an accountable item requiring a signature, such as a certified letter, cannot be delivered on the first day, the carrier will return the item to the GRANTSVILLE Post Office. You may pick up the article at the GRANTSVILLE Post Office, request redelivery on another day convenient for you, or authorize the carrier to deliver the item to another person.
Customers who wish to obtain Post Office box service may do so at the GRANTSVILLE, located 6.8 miles away. The GRANTSVILLE Post Office has 24-hour lobby access for customer convenience. Window service hours at GRANTSVILLE are 8:15-4:00 Monday through Friday and 9:00-11 :00 on Saturday. Post Office box lobby is open 24 hours a day 7 days a week. Post Office boxes are available at this location (check office for fees). If applicable, Post Office Box refunds can be received at the GRANTSVILLE PO.
Retail services are also available at the GRANTSVILLE Post Office, located 6.8 miles away. Window service hours at GRANTSVILLE Post Office are from 8:15-4:00, Monday through Friday, and 9:00-11 :00 on Saturday. Post Office box lobby hours are 24 hours a day 7 days a week.
If you have any questions concerning the placement of rural mailboxes or the services available to you through the rural carrier, please contact the GRANTSVILLE postmaster at 304-354-6316.
I realize with change there is always concern. No final decision to permanently discontinue the Post Office has been made. A community meeting will be held at or near the GRANTSVILLE in the coming weeks to explain our plans and solicit your comments concerning possible alternate means of providing postal and other services. In the interim, we are confident that carrier delivery will continue to provide BIG BEND POST OFFICE customers with effective and regular postal services.
Sincerely,
JONATHAN LITTON
Manager Post Office Operations