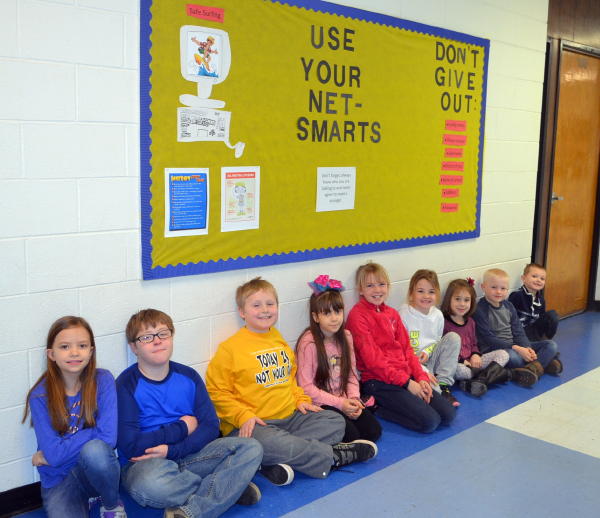 (L-R) Brylie Wilson, Hunter Marks, Bret Richards, Anessia Kerby, Payton Moneypenny, Quinn Bunch, Trinity Probasco, Ezra Anderson, Colten Meeker
Pleasant Hill Elementary School students learned about safety during the month of February. Older students focused on internet safety. Younger students focused on personal safety.
The students in the picture (above) created a bulletin board that demonstrates safe internet practices.
Mrs. Prusack's kindergarten students shared some thoughts about personal safety:
· You have to go out a window if you cannot go get out of a door during a fire.
· Cops, your dad and your mom keep you safe from bad people.
· Look both ways so you do not get run over.
· I held my sister up to keep her from drowning.
· You do safety to keep you out of danger and to keep you from dying.
· Stop at a crossing guard in case of traffic.
· Safety is keeping safe and protecting my brother.
· If there is a fire you go outside, like my school has fire drills and fire extinguishers.
· Safety protects you.
· Don't walk in the road.