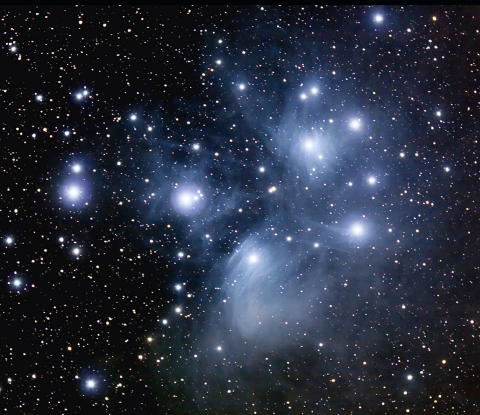 Messier/M45 (Submitted by: late astronomer Dave Miller) Wed Jan. 9 09:30:01 2008, Calhoun County Park WV), Messier M45 is also known as the Pleiades star cluster and The Seven Sisters, the cluster about 425 Light years away in the Constellation Taurus, its age is around 100 Million years old
UPDATE - Calhoun Banks has donated $5,000 to Calhoun Parks to develop a $300,000 project involving restrooms, showers and other amenities for the Dark Skies Astronomy program, which will also be utilized by visitors, according to chairman Donnie Pitts.
By Bob Weaver
ORIGINAL STORY 1/10/2018 - The scope of a new $300,000 project for the Calhoun Park is to construct an ADA compliant restrooms and shower house, and will probably also contain a laundry, according to park board chairman Donnie Pitts.
"We are very excited about the potential we have at the park for Calhoun County, one step at a time," said Pitts.
Scope of the current project for the park is to construct an ADA compliant restroom/shower house that probably will also contain a laundry.
"The project will also include all related utilities and parking area. The intent for this facility to serve the general park population, campground and dedicated star gazing area," Pitts said.
The total cost of the project is estimated to be $300,000, of which $60,000 is local match and $240,000 is an Appalachian Regional Commission grant.
Pitts said along with project, the park is exploring the possibility of constructing some rental cabins.
There are additional plans for star gazing, but the lack of broadband will be required to make them happen.
Luke Peters of the Mid-Ohio Valley Regional Council released a list of local funding partners ($60,000) for the project:
  TransCanada grant to Calhoun County Commission $12,500; Parkersburg Area Community Foundation $7,500; Dominion Foundation $15,000; Private Local Contribution $5,000; West Virginia Community Advancement and Development Partnership   $20,000.
  Peters said the structure and accompanying septic tank improvements will offer much improved shower and restroom options to support the RV's, and an expansion of cabins, tent camping facilities, potentially yurts or teepees, as well as a growing number of day-use visitors.
The timeline for the construction period approval is in early 2018.