An employment program, to operate for seven weeks beginning in June 2018, will offer local students the chance to work in region in a career-related field while learning about their communities. The Parkersburg Area Community Foundation & Regional Affiliates' (PACF) Civic Leaders Fellowship Program is also designed to develop participant's connections, leadership skills, and assist participants in finding meaningful employment upon graduation.

Participants must have successfully completed at least one year of post-secondary education, be currently enrolled in a post-secondary education program, and have a permanent home address in the PACF's service region of Wood, Calhoun, Doddridge, Gilmer, Jackson, Mason, Pleasants, Ritchie, Roane, and Wirt counties in West Virginia, or Washington County, Ohio. The student application is available on the Foundation's website and must be submitted by February 9, 2018.

During their time in the program, Civic Leaders Fellows are placed at a work site, in a position related to their career interests, where they work four days a week. On Mondays of each week of the Fellowship, the Civic Leaders participate in leadership activities and programs designed to increase their knowledge of the region and prepare them to engage fully in service to their communities.

Wood County resident Lauren Rinehart participated in the Program in summer 2017. A West Virginia University student, Rienhart majors in Human Nutrition and Foods. Through the Civic Leaders Fellowship Program, she was placed with Catholic Charities, where she prepared healthy recipes to share with those served by the organization's mobile food pantry, which visits Wirt, Calhoun, Roane, Ritchie, and Doddridge counties monthly.

"The Civic Leaders Fellowship Program is a wonderful way to gain knowledge and experience in my field, as well as explore options available close to home," said Rinehart.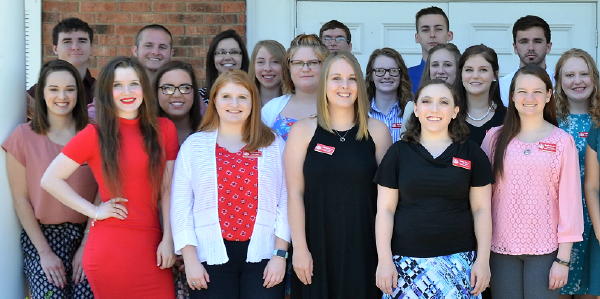 Civic Leaders from the Foundation's 2017 Program
gather in front of the PACF's office in Parkersburg
Calhoun County resident Aleah Dye (shown above front-left) who attends West Virginia Wesleyan College, plans to attend law school after obtaining her undergraduate degree in English. Aleah worked at the Calhoun County Prosecutor's Office this summer through the Civic Leaders Fellowship Program. Through her participation in the program, Dye said, "I realize that the region needs lawyers more than ever."
Dye desires to return to her Calhoun County where she hopes to "make a difference" after completing her law degree.
The PACF is also seeking organizations that wish to serve as host employers for summer 2018. Businesses, nonprofit organizations and units of government may apply to serve as a host employer for the Civic Leaders Fellowship Program. The Civic Leader is provided to the host employer at no cost. In exchange, the host employer must be willing to provide supervision and a meaningful work assignment. Organizations throughout the PACF's service region are encouraged to apply online to provide an employment opportunity for one of our region's college-aged students. The host application is also available on the Foundation's website and must be submitted by March 15, 2018.
To learn more about the Civic Leaders Fellowship Program and to apply to participate as a student or host employer, visit:   www.pacfwv.com   Questions regarding this opportunity may be directed to the PACF's Civic Leaders Fellowship Program Manager, Mindi Line, at Mindi.Line@pacfwv.com
About the Parkersburg Area Community Foundation
The Parkersburg Area Community Foundation and Regional Affiliates (PACF) works with individuals, families, businesses, and civic or non-profit organizations to make a positive and permanent commitment for the future of our community. The PACF is a single 501(c)(3) public charity that manages more than 350 charitable funds with nearly $40 million in assets. The PACF works in partnership with its local affiliates to provide leadership and develop philanthropic resources to meet the needs of an 11-county service area. Since 1963, the PACF has helped local citizens support charitable needs and touch every aspect of life in the community in a variety of lasting ways. For more information about the PACF, visit    www.pacfwv.com   or call 304-428-4438.