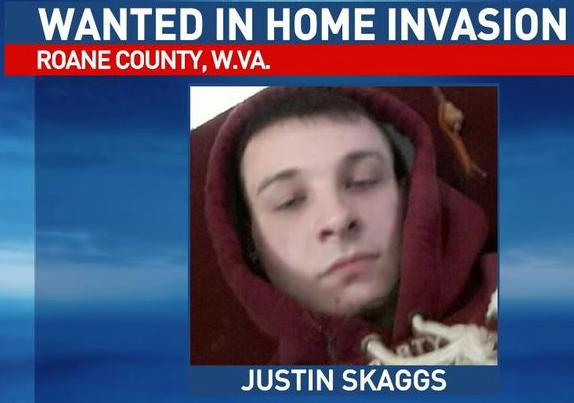 Photo courtesy of WCHS - TV
UPDATE 2/9/2018 - Roane County deputies said a warrant has been issued for a man in a home invasion.
Justin Skaggs is being sought in an incident that occurred on Egypt Ridge in early January.
Deputies said Skaggs' last known address was in Calhoun County, but he has ties to Roane and possibly Braxton County.
The sheriff's office reported previously that a home invasion occurred about 12:45 p.m. Jan. 8 in the 2900 block of Egypt Ridge Road.
Anyone with information about Skaggs' location is asked to contact the sheriff's office at 304- 927-3410.
ROANE POLICE INVESTIGATING EGYPT RIDGE HOME INVASION NEAR CALHOUN LINE - Intruder Flees
1-18-2018 - Roane County deputies are searching for a suspect in a home invasion Monday.
According to the Roane County Sheriff, a man was outside his home located on Egypt Ridge Road near the Calhoun County border, when he thought he heard a noise.
The victim was identified as Mike Maloney.
While in his bedroom, a man opened his bedroom door, and told the resident that he had a gun.
The suspect advised the resident to not look outside, and to give him his car keys.
The resident refused to give his car keys, and the suspect took off.
Roane County deputies are still trying to determine what he got away with.
Deputies do say that the suspect gained access into the house by kicking in the main door and breaking glass in a storm door.
According to the Sheriff, the suspect is a white male in his early 20s, between 5'9" and 6'0" tall and weighs between 170 and 180 pounds.
The car he left in was described as a two-door black car with loud exhaust.
If you have any information on the suspect, you are asked to contact the Roane County Sheriff's Department at 304-927-3410.