CEDAR GROVE COMMUNITY CHURCH HOMECOMING AUG. 11 - Reunion with covered dish at noon, lower West Fork.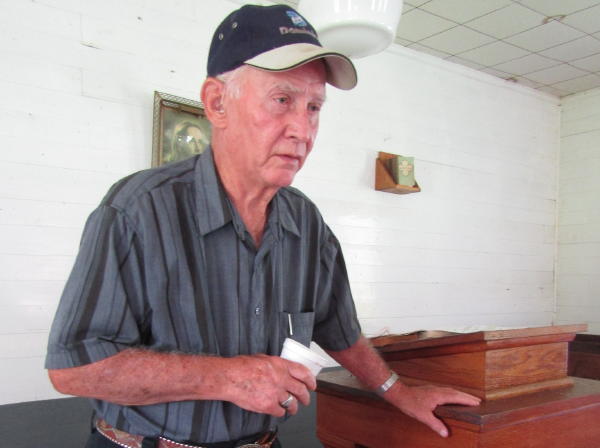 Jim McCormick recalls early church going days
By Bob Weaver 2018
"The Cedar Grove church would be packed, every seat taken, people standing and some out in the road," said former church member Jim McCormick, who walked a few miles with his family from Roane's Barnes Run to attend services.
McCormick said a dozen of more floods in the last century surrounded the building, sometimes seeping through the walls. "And its still standing," McCormick said.
Nearby was the Cedar Grove one-room school, long gone, remembered in several photographs on the Hur Herald.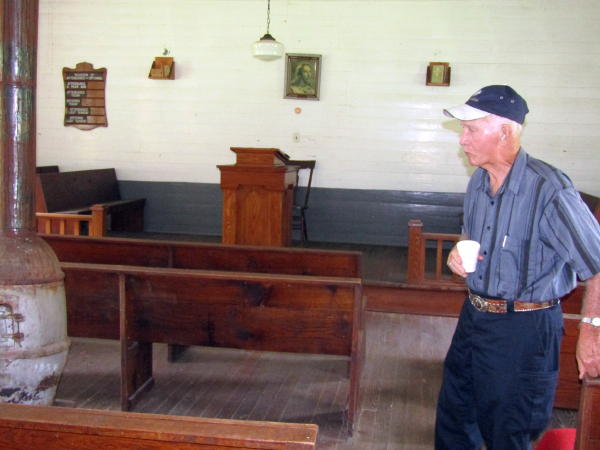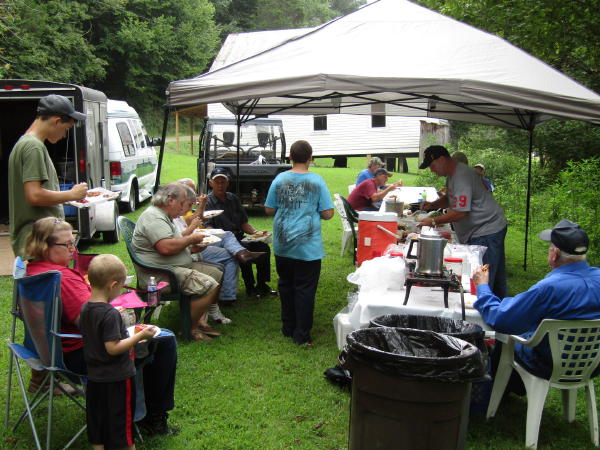 "The West Fork of the Little Kanawha had a pretty big population, and dozens of families lived these hollows. Had to imagine now," he said.
Missing from this year's homecoming was old=timer Boyd Duskey, now deceased, who initiated the homecoming years ago after it was officially closed, and reopened the church on occasion to have a revival meeting.
Most notably for the folks who came this weekend, the absence of the old souls, many of them photographed and written about on the Herald, starting 22 years ago.
"It was a time when people were really connected, neighbors and friends," concluded McCormick.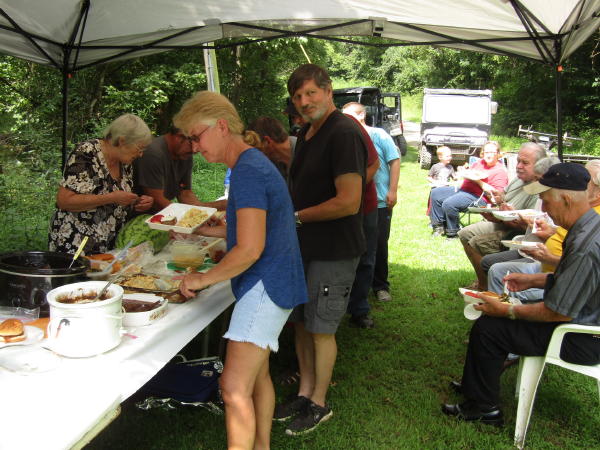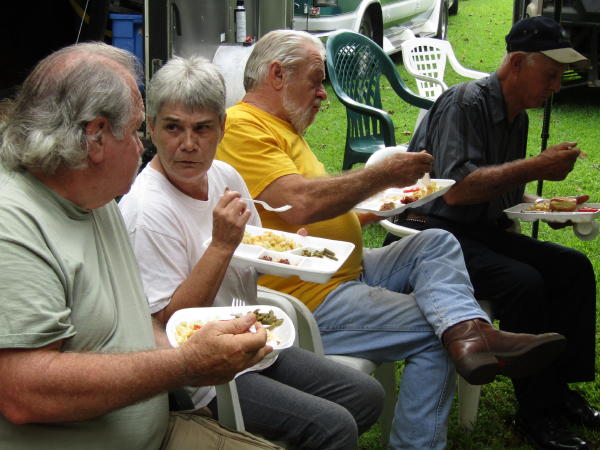 CEDAR GROVE HOMECOMING 2017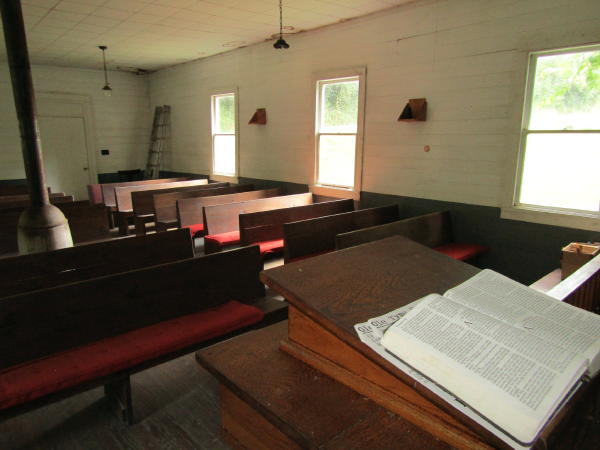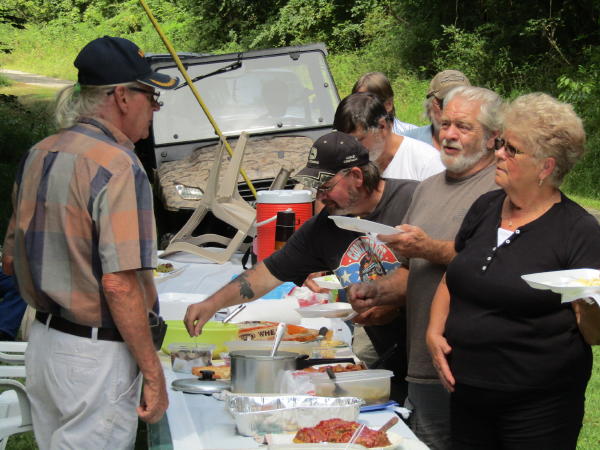 The long closed Cedar Grove Church on the lower West
Fork of the Little Kanawha has homecoming celebration
2017 - The 2017 numbers attending the Cedar Grove Church homecoming along the waters of the lower West Fork of the Little Kanawha, are dwindling to a few handfuls.
The reason is answered by looking at earlier stories about the homecoming, the old-timers have gone on.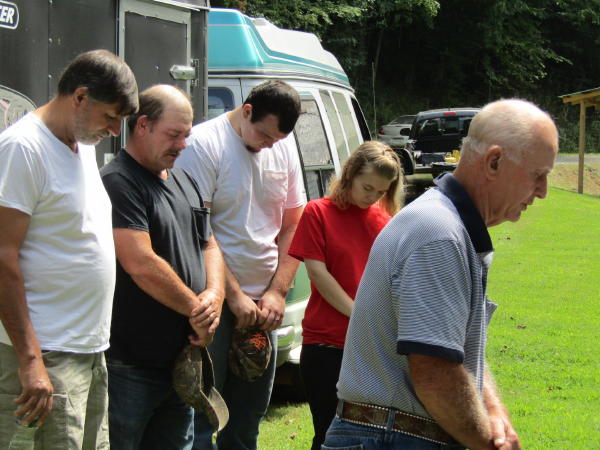 Former lower Barnes Run resident Jim McCormick leads the blessing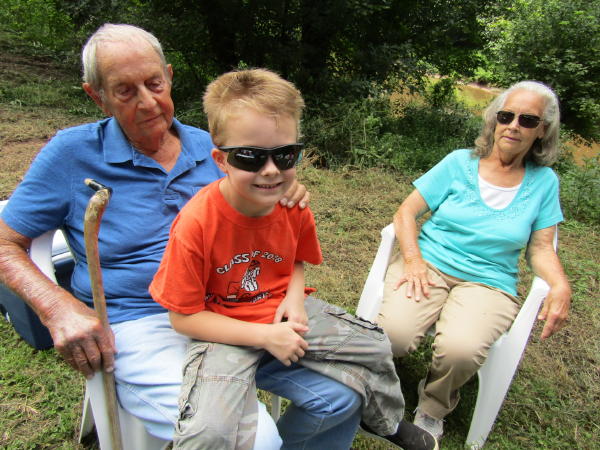 Ivan Lowe, with his grandson Drake and wife Betty,
attended the church during his childhood, he is the son
of Scott and Linda Postalwait Lowe, who also lived nearby
Most notably absent from this year's event was Boyd Duskey, now 90 plus, who is ill at his residence a couple miles away. (He has since passed away).
Boyd was instrumental in keeping the homecoming going over many years, since the church has long been closed.
Well over 100 years ago, families would travel from up and down the Calhoun West Fork, and from the hills and hollers in Roane County, just across the river.
L to R: Kylie and Clayton Carpenter, Doug and
Becky Starcher return to church with memories
See CEDAR GROVE'S 'OLE COUNTRY CHURCH' HOMECOMING SUNDAY - Church Was "Sacred Place"
CEDAR GROVE DRAWS OLD-TIMERS - "No Spring Chickens Around Here" Says Duskey
REMEMBERING: ONCE THRIVING CEDAR GROVE CHURCH RECALLED - Families Gather Along West Fork