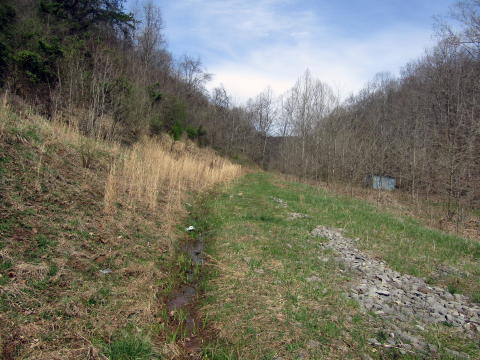 The mouth of Hodges Hollow on Barnes Run, home of Colonel
Thomas Tinsley Hodges, not far from the Hardman manor house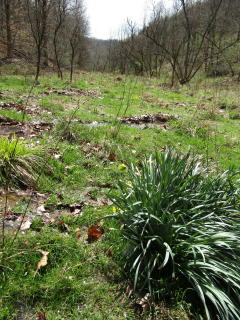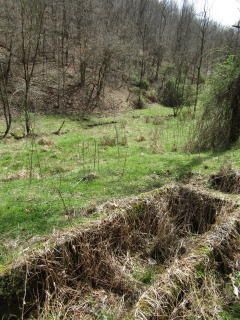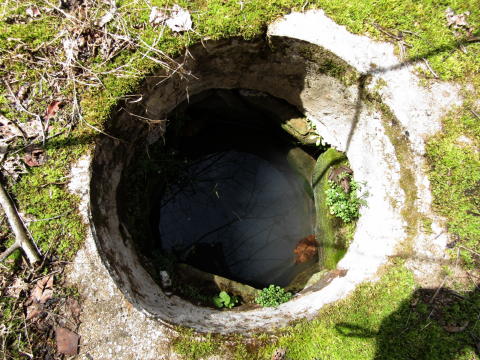 In the 21st Century a few markers remain of the Hodges Homestead,
the house location, a water trough for livestock and a dug well
By Bob Weaver 2017
"Colonel" Thomas Tinsley Hodges (1847-1914) of Barnes Run (Mt. Zion) was a man of many seasons following the Civil War, some Calhouners viewing him as a flim flam man, while others seeing him as an industrious entrepreneur.
At the very least he was a bigger than life character.
Unfortunately, we can find no photo of the controversial figure.
A gossipy account of the man was given in the Daniels Run News in 1902: "Col T.T. Hodges, of Mt. Zion was in our midst this week leasing land for oil. He says he is the only company in the world. "Uncle Tom" has been the means of scattering lots of money in our neighborhood. Come on "Uncle," we know you are from Missouri."
Hodges, the son of Whitehead and Roberta Hicks Hodges, born in 1847, was a 1st Lieutenant in the Civil War from Taylor County, serving in the Confederate army. It was in Virginia that he married Phoebe Matthews (1845-1932) in 1869, returning to Grafton before coming to Calhoun County.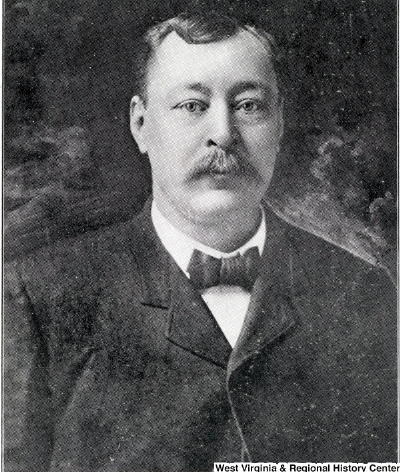 Relative Thomas Edward Hodges was former president
of Marshall College and West Virginia University
His father, Whitehead Hodges was a first cousin to Thomas Edward Hodges, who served as president of West Virginia University and Marshall University about 1900.
Whitehead Hodges owned a large grist mill in Richmond VA which was burned to the ground by Sherman's troops during the Civil War.
"The more affluent people (like the Hodges) would not do labor for poor whites," wrote Bernard McDonald.
Hodges unofficial title of "Colonel" was bestowed by himself or by his neighbors, while wheeling and dealing post Civil War, often related to property, stocks or oil rights. Some of his deals got him in hot water with the law.
Bernard McDonald wrote about his grandfather, "He was 6' 4" tall and could out run and out jump higher doing his Civil War enlistment." He was only 16. "The more affluent people (like the Hodges) would not do labor for poor whites," wrote Bernard McDonald.
Hodge and his wife had four children, William Dent, Lunda Lane (married Jeff Kelley), Nancy Jane (married Clay McDonald), and Florida "Pet" Maine (married Hiram Cooper). Before "Pet" married Hiram Cooper, she bore a son to the well-known Judge Reese Blizzard, who then resided in Calhoun County.
William Dent Hodges bought horses and mules for the coal miners at Scotts Run, Monongahela County, during boom, and was run over and killed by a train, according to Bernard McDonald. He is buried at Calhoun's Mt. Zion Cemetery.
Col. Hodges, according to a family account, moved a "new woman" into his domicile in Hodge Hollow, at which time his wife Phoebe left the house to live with her daughter Nancy Jane and son-in-law Clay McDonald at Mt. Zion.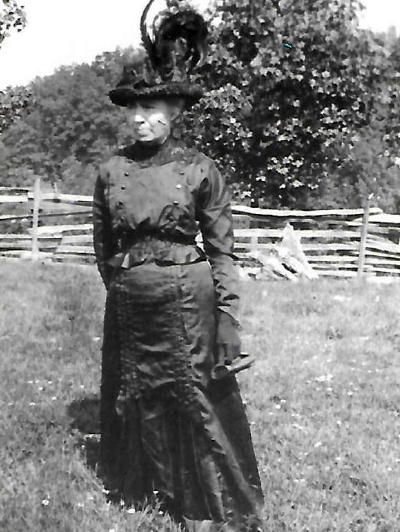 Phoebe Hodges (1845-1932), the long-suffering wife of the Colonel was described as a "gracious, kind, generous and hardworking woman."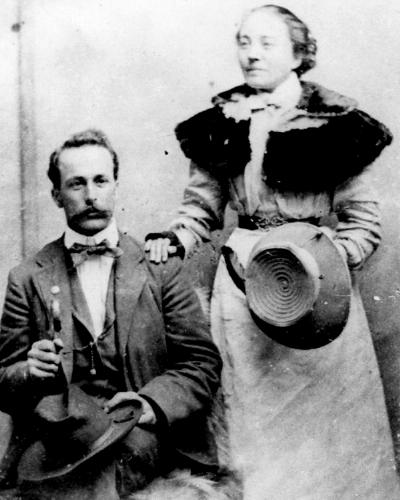 Clay and Nancy Jane Hodges (daughter
of Pheobe) McDonald at Mt. Zion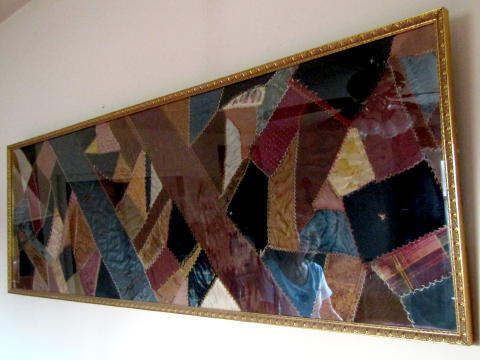 Judy McDonald Jarvis owns and displays
a handmade quilt made by Phoebe Hodges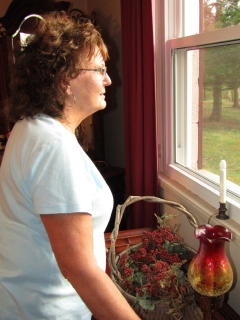 Judy McDonald Jarvis (left) of Mt. Zion recalls her historical
Hodges and McDonald families as she looks over land once
owned by the McDonalds, well over 1000 acres from Mount
Zion to Sycamore, a section once known as McDonald Woods
Fascinatingly, Col. Hodges tombstone in the Mt. Zion Cemetery has his death date listed as 1881, but his death certificate death was listed as 1914. His name appears in the local newspaper many times following his listed tombstone death. So far, there is no explanation for the discrepancy.
Calhoun's famous Aristotle Smith, also a man of many interests, said he defeated Thomas T. Hodges as the Democrat candidate for the House of Delegates from Calhoun in 1892.
In the Calhoun Chronicle 1901, there is a report about the Colonel contracting smallpox:
"If reports are true, there is now greater danger of an epidemic of smallpox in this county than there has ever been before. the reports, as we gather them, and which we believe to be true, are to the effect that Thomas T. Hodges of Barnes run, recently broke out with the disease while in Parkersburg, that for some days he was unable to come home, that he was under no restraint while there and all persons had access to his room; that S.C. Barr, F.E. Pell and Louis Ball, of this county were with him a considerable time after he was broken out; that the first of last week he came home and informed his family he had smallpox, and all except his wife left home."
"Word received from him Saturday morning is that he is very poorly, and badly broken out. The county board of health held a meeting last Thursday evening and passed a general quarantine order, quarantining all persons who had been in any manner exposed to the disease."
"No guards were put out, however, and we are informed that persons are allowed to come and go at will about the home of Mr. Hodges. It is reported here that Don Chapman, of Spencer, and Alfred Kenney of Arnoldsburg, both staid over night with Mr. Hodges since he has been broken out." "All these reports may be, and we trust are exaggerated, and that the situation is not so bad as it appears. To say the least, very many people are much alarmed, and are censuring the Board of Health for not being more active in the matter, and declaring that only very stringent measures can prevent the spreading of the malady."
If indeed Col. Hodges had smallpox, he survived to die in 1914.
The Col. was the teller of a Civil War tale to the editor of the Calhoun Chronicle in 1899:
"T.T. Hodges was in town last Thursday morning discussing horses, hounds, religion, temperance, and many other living issues, and among other things he told in the presence of the writer and others, was a case of a dead man walking, which was substantially as follows:
"In 1863, while what was known as the Jenkins raid was passing through West Virginia, they had a battle at Buckhannon, in which a man by the name of Black and several others were killed and wounded. Dr. Blair, the army surgeon, assisted by others, dressed the wounds of the wounded and laid out the dead after the manner of doing such things in war." "After having completed the work, the doctor and several others were sitting in the court room, which was being used as a hospital, chatting, when about 12 o'clock at night, to their surprise, the man, Black, who had been laid out for dead for several hours, suddenly rose up and walked across the court room to and against the ceiling on the opposite side from where he had been laying, and on going against the ceiling he fell backward to the floor."
"All the visitors and spectators fled from the room except Dr. Blair and a man by the name of Smith Thomas, who now lives at Weston. Thinking the man had come to life, a second examination was made, but he was found to be cold in death."
It is fair to assume that Col. Thomas Tinsley Hodges was a bigger than life character that once graced the Calhoun landscape.