By Sidney Underwood

My Grandad Williams was old school when it came to farming. He had worked with horses all his life in Doddridge County. Horse drawn equipment such as iron wheeled mowing machines, plows and disks were stored in the "Tool house" along with tedders and rakes and spreaders. Over the years he had owned seven of eight teams of horses and his last team consisted of two medium sized draft horses named Fred and Joe who didn't seem to like each other very much.

I remember they were approaching 20 years in harness together and had served him well throughout the late 1930's and1940's until the summer of 1948 when Granddad suffered a ruptured appendix and almost died.

It was a hot July day and he was repairing a section of hill top fence where several sheep had escaped onto a neighboring farm when he became ill with a pain in his side. He told his hired hand to finish up and said that he was going to the house because he didn't feel well.

Thinking it might be indigestion or a stomach virus, he eased down the hill to the house and rested for a while on his bed in the sitting room. Grandma attended to him by giving him a spoonful of baking soda and water. She urged him to sit up so the soda mixture could settle his indigestion. He sat for a time in his favorite rocking chair hoping the pain would subside, but the soda brought no relief. He knew his side ached and he was nauseous but did not know why. Thinking his condition would improve over time, he lay in his bed five days thereafter.

I remember my family arrived on that fifth day and my Mom decided to call the local doctor. Old Dr. Poole of West Union arrived that afternoon and soon made the correct diagnosis of Acute Appendicitis. Dr. Poole was a typical country physician in that he made frequent house calls. I remember that he had attended to me several times during my early childhood when I had a high fever. Not one to mince words, he told my Granddad that he would die if not admitted to a hospital that very day because his body had swollen and turned yellow with jaundice indicating his appendix had been ruptured for some time.

Granddad asked Dr. Poole where he should go since he never had the need to be hospitalized before. Dr. Poole recommended Dr. Thomas L. Harris and St. Joseph's Hospital at Parkersburg. When Granddad suggested a Clarksburg hospital instead as it would be closer to home, Dr. Poole was adamant that only Dr. Harris should be involved due to his deteriorating condition. At that point Granddad finally realized the seriousness of his situation.

The local funeral home in West Union had the ambulance service at the time which was commonplace in that era. I was only six years old, but I remember we all piled into Granddad's black 1936 Dodge sedan and followed the ambulance to Parkersburg. Admitted that afternoon, Dr. Harris told the gathered family that it would be touch and go due to Granddad's advanced age and delay in seeking medical help. He said that infection had taken Granddad's body and that would have to be dealt with before the appendix could be removed. He wanted to know why the family had waited so long to obtain treatment. My Mom spoke up and said, "Poppy would not let anyone do anything since he thought he would feel better in a few days." Dr. Harris just shook his head and said that the man would be extremely lucky to survive the spreading infection.

Tubes were inserted through Granddad's nose and down to his intestines so that the vile green corruption could be removed. At the same time massive doses of penicillin were given him. During that first week, Granddad stubbornly hung on in a sedated semi-conscious state. Slowly, he started to improve enough that the oxygen tent could be removed. From reports given me by my parents who were allowed short visits, Granddad tolerated the tubes down his throat, but hated the urinary catheter. Another tube supplied nourishment during this vulnerable time.

When Dr. Harris had him stabilized at the end of the first week, the appendix was surgically removed leaving a long slash of a wound that would take months to heal. I remember he was in the hospital for three weeks. Of course we grandchildren wanted to see him during his recovery period, but were forbidden to go to his room because of some rule concerning children and hospitals. We got updates from our parents who were allowed to visit, but we still wanted to see him.

I will never forget one of the St. Joseph's Nuns taking us children up to his room one at a time toward the end of the second week for a short visit. I remember he grinned at me and said that when he got home he would challenge me to a foot race. He had to be kidding because he looked awful, but that was when I realized my Granddad was not going to die.

I remember during the third week Dr. Harris spoke to the family and said Granddad's recovery was rather amazing and the man certainly had a strong constitution. He indicated that the surgical procedure was successful but Granddad would remain in the hospital for several more days. Dr. Harris also said that someone would have to change Granddad's bandages daily once he returned home. Upon hearing that, my Mom contacted one of Granddad's nieces who was a registered nurse living in Indiana. She agreed to take a leave of absence and care for him during the next several months. Grandma was much relieved and stated that she would gladly do all the cooking.

As Granddad started feeling better, he wanted family members to visit him each day. My Mom told him that she and her mother were in the middle of canning season and since it would be a 50 mile trip, she thought every other day might suffice. Granddad said that the family would have to work it out, but he damn well wanted someone there to see him every day! He was getting feisty, a sure sign of improvement. Well that settled it, each day my Mom or her sister, Pauline, would gas up the old Dodge and travel old RT#50 to Parkersburg from West Union to spend time with him during visiting hours. My Dad would later say that the old Dodge had more miles put on it in in three weeks than a whole year's worth of driving!

Granddad should not have been concerned about company that last week in the hospital because nieces, nephews and two sons-in laws streamed into his room most afternoons. I remember sometime during that week Mom was sitting in the lobby with me waiting for Dad to come down. We saw the elevator door open and Dad stepped out looking to be in a very good mood. He walked over and told us that Johnson had been pleased to know that the hay was in the barn, second cutting completed and harvesting done. Mom asked Dad why he was still grinning. Dad replied, "Johnson just told me that he was going to buy a tractor next spring." Alarmed, Mom exclaimed, "Poppy hasn't driven a car in 10 years, He will hurt himself on a tractor!" Dad told her to "Shush." He looked at me and winked and said, "There will be plenty of volunteers to do the tractor driving." Boy, did I perk up after hearing those words! Next spring I would be 7 years old and I figured that was about the right age to learn tractor driving!

It was a celebration of life on the day Granddad was released from the hospital. It was early August as he hobbled to the old Dodge with Mom and her sister, Pauline, holding on to him.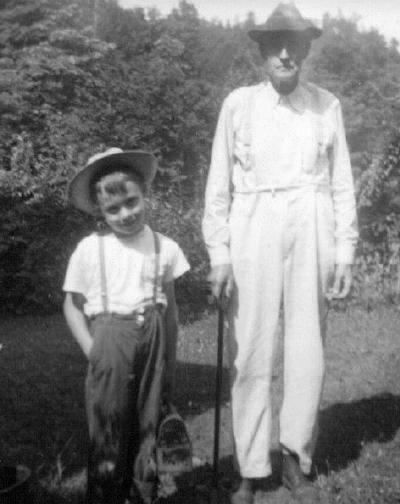 He managed to wave to the two car loads of relatives waiting for him to be released as they planned to escort him home. I remember him saying good bye to several of the Nuns who helped carry stuff to the car. They told him they had prayed for his recovery. Somewhat embarrassed since he wasn't much for praying, he said that he appreciated all they had done.
He had in his possession that day the ruptured appendix in a sealed jar of formaldehyde. Upon seeing it, my Mom said, "Poppy, you can't take that thing home!" He said that he certainly was going to take it home and intended to keep it as a souvenir. Subsequently, over the years he never missed an opportunity to show it to visitors who were repelled by the thing. I remember it looked like a wrinkled brown pickle with a slimy substance clinging to it. He kept it for years in his dresser next to his ever present carton of Mail Pouch tobacco. Sometime in the early 1960's my Mom quietly threw it away when it started to separate into little globules and the solution turned cloudy.
In the spring of 1949 he was hale and hearty again with a new lease on life. He took my family on a trip to Washington D.C. to see the sights and on to Lewistown Pa., to visit my aunt's family. When we returned, he started looking at tractors. He looked at the Allis-chalmer Model G which was a small tractor with the engine mounted over the rear wheels. Not really impressed, he continued to look at other tractors. Subsequently, he purchased a new Farmall Cub tractor with implements from a dealer in Pennsboro by the name of Tracy Law. That tractor was the first vehicle that I ever drove.
At age seven in 1949, I learned how to use the clutch and shift that tractor with accompanying chirping of the gears. One of my older cousins got the job of driving that tractor, much to my disappointment. The tractor did make farming easier, but Granddad never forgot his horses. He would harness them up each spring to disk the plowed ground for the field corn and the vegetable garden. Even though they were retired, he thought some work was good for the horses. It was a routine that he didn't want to give up, new tractor notwithstanding.
My Granddad lived a long and rewarding life. As a young man, he attended the World's Fair in St. Louis in 1904. He remembered his very first ride in an automobile when the Dodge Brothers, who had an exhibit there, took him for a spin. He and my Grandma lived long enough to celebrate their fiftieth wedding anniversary in April of 1956, but she would die two years later at age 84. Like every other family, there was sadness at times. My Grandparents took a direct hit when their only son died at age 26 in 1940.
I was there in that old farmhouse on the day my Grandfather died. It was August 26, 1964. He awoke early that morning with a pain in his chest. He walked out into the hallway and summoned my Mom and Dad from an upstairs bedroom. My Dad, who had suffered a heart attack in 1961, came down the stairs and gave Granddad a glycerin tablet to put under his tongue. It was soon apparent that an ambulance should be summoned and, once again, the funeral home ambulance arrived at the house. I remember Granddad talking with the attendants about his situation. He told them the pain was worsening.
A gurney was hurriedly brought into the house but could not be lowered enough for him to slide onto it. So, using his arms, Grandad pushed himself erect from his rocker and sat down on the edge of the gurney. That was it. He gave a deep sigh and collapsed backward onto the gurney. In an instant, he was gone. All attempts to revive him failed. He had lived 94 years and 6 months. That was the first time that I had ever witnessed a death. I was stunned. My Dad took it hard. He said that Johnson Williams had been like a father to him. Sobbing uncontrollably he retreated to a bed room, closed the door and cried openly.
As I grow old, I often think about my Granddad Williams. He has been gone many years. I remember in the summertime walking a mile down the country road with him to the mail box when I was maybe 8 years old. On the return, I would get tired and lag behind on the inclines. He would always tell me that someday I would get a new stronger pair of legs and a walk like this would be so easy for me. At first I didn't understand, but when I became a teenager, I did.
I try to imagine all the technological advances Granddad witnessed in his 94 years on this earth from 1870 to 1964. He lived through the horse and buggy age to the jet age. He would be so politically incorrect today with his smoking PRINCE ALBERT in his pipe and chewing MAIL POUCH tobacco during the day. Also, each night before bed, he had a shot glass full of bourbon whiskey. To my way of thinking, the smoking, chewing and whiskey drinking didn't seem to do him much harm. I know that he certainly enjoyed all three of those vices.
He was just a man, he was not perfect, no one is, but the lessons I learned from him I carry with me each day. His mind remained clear and he was ambulatory to his last day. We should all be that lucky! I hope that I have enough of his blood circulating in me that I can remain half as strong and live nearly as long as he did. Granddad, I want you to know that you will always be with me.